Crypto trading addicts, these are new people that need medical aid.
Leggi qui l'articolo in italiano.
One of the symptoms is to continually check the price of bitcoins, such as on Coinmarketcap.
In this regard, the Castle Craig Hospital in Peeblesshire, Scotland, has created a specific treatment for "crypto-addict", to help them deal with their causes and learn to live without them.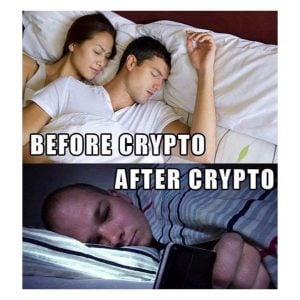 The hospital has also published a questionnaire to find out if you can be addicted to cryptocurrency trading.
It consists of 11 questions, including "Do you feel obliged to continuously monitor the prices of cryptocurrencies?" or "Have you ever borrowed money from friends and relatives or sold something to invest in cryptocurrencies?", to which you can score from zero to three. If the total score is 8, or higher, you might be on your way to being dependent on cryptocurrency trading.
Furthermore, the hospital has published some tips on what to do, or not to do, in these cases:
Before investing in cryptocurrencies better use your own money to pay your bills, your mortgage, and other important expenses

Address your debts rather than ignore them

Do not think that cryptocurrency trading is the only way to make money

Talk to someone about their concerns about trading.
It also suggests to those who live in contact with people with this addiction to deal with them honestly and openly, because "they need to know how their behavior is influencing you".
The hospital claims that it is proven that cryptocurrency addiction can be treated successfully, in the same way as other similar addictions such as gambling, through so-called cognitive behavioural therapy.
Some classes will be held by Tony Marini, ex-gambler and cocaine addict.
According to Marini, introducing a precise organization of one's life is the key to drug addicts. He said:
"Having experienced all of this alone, my addiction experience gives me insight and empathy towards others who have the same problem." I see cryptocurrency trading as a way for people to escape from themselves, in another world, because he does not like the world they are in. The first stage of treatment is to unite other addicts in a group therapy so they can share their life stories so they can identify with each other and realize do not be alone ".