In the world, there is a new Bitcoin City and several new territorial initiatives that aim at allowing large customers the use of large-scale cryptocurrencies.
Certainly the adoption of Lightning Network, which will make the bitcoin transactions immediate and at very low cost, will play an important role in this process, to this day instead the operations are too slow, and on average expensive, to be able to imagine that many people agree to use it as a means of payment.
Meanwhile, Agnes Water, a small tourist town in Queensland, in the north-eastern tip of Australia, is moving forward.
For now, there are 31 commercial establishments, such as resorts, tour operators, restaurants and pubs that have decided to accept cryptocurrencies as payment.
Indeed, at the town's entrance appeared a billboard with the words: "Welcome to Agnes Water-1770, the first city of Australian digital currency".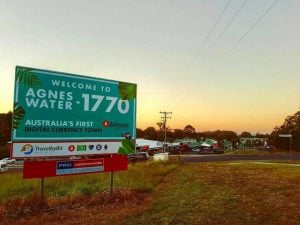 Bitcoin, bitcoin cash, NEM, litecoin, and ethereum are accepted, and a special app has been developed by the TravelbyBit startup.
The international airport of Brisbane, the most important in the area, also accepts cryptocurrencies in many businesses within it.
Meanwhile, in Ljubljana, the capital of Slovenia, a 475,000-square-meter shopping center called "BTC City" was born, with more than 450 shops, a cinema, a casino, a water park, a sports center, and so on.
The fintech startup Eligma has created a point-of-sale system that is used by some retailers in BTC City, with the aim of turning it into a real Bitcoin City.
Also for this purpose, an app called Elipay has been developed.
It is already used in many shops in the center and in the water park. Some cryptocurrency ATMs have also been installed.
The name BTC City comes from the BTC company founded in 1954 as a logistics company, which over time has created many warehouses in the north-east of Ljubljana. In 1990 the complex was converted into a commercial area with the name BTC City, and now defines itself as "the largest and most popular shopping, recreational and cultural center in Europe" of Slovenia.
Regarding the initiative to transform BTC City into "a real Bitcoin City", the company claims to develop an ecosystem that will integrate advanced technologies based on the blockchain, artificial intelligence, virtual reality, machine learning and, of course, cryptocurrencies.