Here is a list of the 7 best blockchain based games with which it is possible to have fun and earn bitcoin (BTC), ethereum (ETH) and other cryptocurrencies. This is aimed at those who wish to be satisfied without spending a large amount of money for the purchase of mining hardware.
Certainly, the compensation is not comparable to what is obtained by mining bitcoin (BTC), ethereum (ETH), zcash (ZEC) and other cryptocurrencies. However, revenues are balanced by low resource expenditure.
In some cases, a computer with Windows or MacOS operating system is needed, in others an Android or iOS phone is enough, but there are some that simply need a web page to work. In short, earning bitcoin (BTC) by playing is not that bad.
1 – Huntercoin
Available for Windows
Huntercoin is a real MMORPG based on blockchain. MMORPG, for those who don't know, stands for "Massively Multiplayer Online Role Playing Game". This type of game involves several players participating in the same world at the same time (sometimes on different servers, when the load is heavy).
Cryptocurrency has given rise to a new generation of MMORPGs, renamed, with a little imagination, MMOCG (Massively Multiplayer Online Cryptocoin Game). Huntercoin is one of the first titles of its kind to succeed.
The top-down 2D game has two simple objectives that players must achieve:
Collect coins and take them to a bank;

Kill the other players.
All actions require a small amount of crypto to be performed. If a player is killed, his coins are released within the map to allow other users to find them.
The tokens that are collected inside are Huntercoin (HUC). It is not a very popular cryptocurrency and ranks among the first 1200 on CoinMarketCap. However, it can be exchanged for bitcoin (BTC) on Poloniex.
2 – Steem Monsters
Available on the Web
Steem Monsters is a trading card game. All information on card ownership, data and game results is stored on Steem's blockchain.
As is usual for these types of games, the main objective of the gameplay revolves around battles. Winners of low-level tournaments can expect to earn experience points and strengthening decks. Anyone who can win high-level tournaments will be rewarded directly in Steem, Steem Dollar or other rare cards.
There is also a real marketplace where you can buy, sell and trade cards with other players. Among the many cryptocurrencies, we are talking about STEEM, a well-established token with a marketcap of 180 million dollars and which was for a long time in the Top 10 for market capitalisation.
3 – Storm Play
Available on Android
Storm Play is a microtask-based gaming platform. Through it bitcoin (BTC), ethereum (ETH) and Storm (STORM) can be earned.
Bitcoin and ethereum are obviously well-known cryptocurrencies, but Storm is currently in position 216 on CoinMarketCap with a market capitalisation of about $16 million.
The microtask mentioned above refers to real tasks that are very simple to perform. What kind of tasks?
Playing;

Taking part in surveys;

Watching videos;

Downloading an app.
And many other things. After completing a task the user receives Bolts that can be converted to BTC, ETH or Storm.
Storm Play is currently only available on Android, but the developers have indicated that a version for iOS is under development.
4 – Worldopo
Available on Android and iOS
Worldopo is a world-building simulation, a sort of Minecraft based on the real world. The WPT cryptocurrency, together with bitcoin (BTC) and ethereum (ETH), are the rewards obtained by playing. It is one of the few games in the cryptocurrency space that is technologically advanced.
It combines augmented reality and virtual reality with blockchain technology and DAG (directed-acyclic-graph). The game uses data from Google Maps and Open Street Maps to allow participants to buy real roads around the world.
Best-described as Pokèmon Go-meets-Monopoly, it is a platform where users can cooperate with each other in the construction and development of a global economy.
Worldopo makes mining-farms available directly within the game, to give users the ability to earn bitcoin (BTC), ethereum (ETH) or worldopo  (WPT) tokens.
5 – Sweatcoin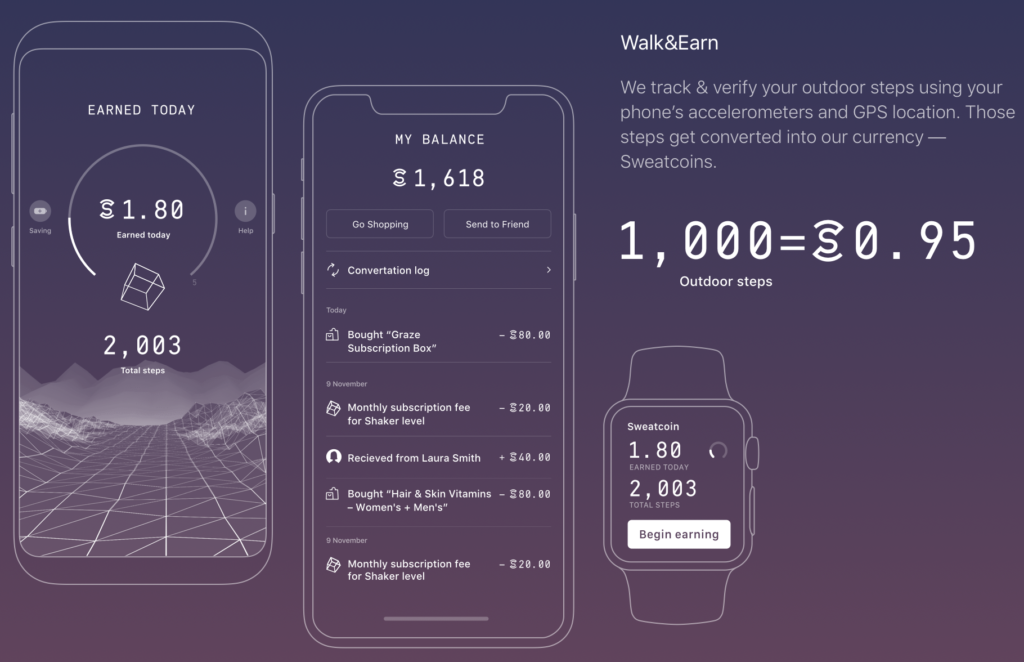 Available on Android and iOS
It's not easy to motivate yourself to exercise. But what if you get paid to do it?
That's exactly what Sweatcoin, another blockchain-based game, has to offer; simply download the smartphone app and keep it active at all times. The application monitors your steps and, for every 1000 steps, you will earn approximately one Sweatcoin (SWC).
However, it is not possible to trade Sweatcoins on any exchange, but you can redeem them for video streaming subscriptions, mileage areas, ebooks and even iPhones.
6 – Privateers.Life: The Island
Available on the Web
This is a pirate themed game. The game is set in the 17th century, in what is called the pinnacle of the pirate era. The aim is to keep your character healthy by feeding him and making him drink while completing a series of tasks and challenges.
As trivial as it may seem, Privateers.Life offers an interesting breakthrough that makes it a game unlike any other. No goods can be easily found around, but they must be extracted, collected, processed or shaped.
This is where cryptocurrencies come into play: if the character completes a production process, he can sell his creations for ludum (LDM). It is not possible to earn bitcoins (BTC).
Ludum is, of course, the game's native cryptocurrency. You can use it to purchase items and services within the platform, or you can exchange LDMs on exchanges such as EtherDelta or YoBit.
7 – Alien Run
https://www.youtube.com/watch?v=9LSzMcga534
Available on Android and iOS
Alien Run is the classic arcade game and, if you like this genre, it is definitely worth trying it out. The gameplay is simple but compelling: you enter the role of an alien who must run to safety by jumping and dodging all obstacles that come towards him.
As you progress through the various levels the character will learn new skills. Most importantly, you receive awards for each completed level. Clearly, the difficulty will increase with each level, but so will the amount of bitcoin (BTC) that can be obtained.
Games have been coming to the blockchain for some time now and a lot is still expected from this technology. With platforms that offer a variety of programming possibilities, such as that of Ethereum, the only limit is imagination.