Listen this article
download
SPONSORED POST
N.B.: 76.4% of retail investor accounts lose money when trading CFDs with this provider. You should consider whether you can afford to take the high risk of losing your money.
Traders who wish to go long or short on Bitcoin can do so directly by trading CFDs, a derivative financial product that introduces leverage and other unique features. The latter can be particularly interesting for those who want to trade bitcoin using a CFD broker, especially since it is very fast and easy to open an account, and deposits can be made using a credit card, PayPal, bank transfer and more.
Plus500's CFD Trading Platform, for example, allows payments via PayPal and credit card, and opening a demo account takes only 15 minutes.
CFDs are flexible financial derivative products, to the extent that many consider them to be one of the best online trading tools but also need to be traded carefully since there is a risk of loss. It is no coincidence, therefore, that many of the best trading platforms in the market are those offering CFDs.
These derivatives have a value that exactly replicates the price trend of the underlying asset, which means that thanks to CFDs it is possible to trade any asset listed on the financial markets, including Bitcoin, Ethereum, Ripple XRP and more cryptocurrencies.
In addition, some CFD trading platforms do not charge commissions but make a profit from the difference between the Buy price and the Sell price (also known as the bid/ask spread).
CFD platforms also allow leveraged trading, and withdrawing any available balance is immediate at any time.
A CFD on Bitcoin is an asset that reflects the price of Bitcoin, so traders can engage in trading without physically owning BTC. Moreover, unlike the BTC market, CFD providers are well regulated and offer several investor protection tools.
Another important feature is that, since these platforms are fully regulated by financial authorities, they already comply with capital requirements, tax regulations, so from this point of view, they do not require additional actions to those already in place on the platforms themselves.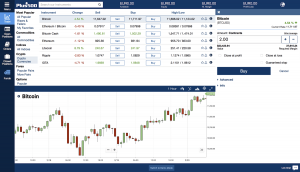 At the same time, they do not allow anonymous transactions because of the mandatory nature of KYC, which means that users must expressly declare the possession of cryptocurrencies or trading-related capital gains in their tax returns.
For example, when trading on Bitcoin with Plus500, it is necessary to first open an account with the required credentials.
Once the account is opened it is possible to decide whether to start the actual real-money trading immediately or use a demo account to practice with unlimited virtual funds.
When you're ready to trade with real money, it is necessary to make a deposit by accessing the funds section of the account. Here are several payment methods for making the deposit, and it is also possible to ask Plus500's support for instructions on how to proceed via email.
Once the funds have been deposited, it is possible to start trading by accessing the trading area of the website. Here users can also buy and sell CFDs in other currencies, commodities, stocks or indices, as well as in Bitcoin.