SPONSORED POST*
2020 was a game-changer for both Bitcoin and the crypto space in general. More and more financial institutions and major global corporations are recognizing the growing potential of crypto as a lucrative long-term investment. If you didn't buy Bitcoin before the start of the 2020 rally it may feel like you missed your chance to become a Bitcoin millionaire, but that isn't actually the case. 
There are in fact plenty of ways to generate huge crypto returns, from HODLing, where you hold on to your coins for the long term in the hope they will appreciate over time, to day trading, a much faster, though higher-risk strategy that takes advantage of extreme crypto market volatility. However, if you want to become a Bitcoin millionaire in 2021, your best option is a low-risk, low-effort strategy that offers guaranteed high returns. 
The Main Rules for Making Steady, Substantial Profits with Bitcoin
One of the lowest-risk forms of investing that exists is crypto arbitrage, a strategy that exploits temporary price disparities across exchanges. These are short periods, often lasting just a few minutes, during which a cryptocurrency will be available at different prices at the same time. With crypto arbitrage you can profit from these price disparities by buying the coin on the exchange where the price is lowest and then immediately selling it on the exchange where the price is highest to make a profit, before the window closes, and the market adjusts to compensate for the price difference.
A leading company in the space is ArbiSmart, an EU regulated, automated crypto arbitrage platform. Its AI-based algorithm is connected to 35 exchanges, which it scans 24/7, identifying and exploiting crypto arbitrage opportunities, on hundreds of coins at once, for returns of up to 45% a year.
Since the platform is fully automated, you just sign up, make a deposit and the system takes over. Your funds are swapped into RBIS, the platform's native token and used for crypto arbitrage trading. You can focus on other things, while earning a passive income and withdraw your passive profits in Bitcoin or Euro at any time.
As you can see, the Bitcoin market could crash tomorrow, and it would not impact your crypto arbitrage profits, as they are not vulnerable to crypto market volatility, mitigating risk significantly. 
Know Your Profits in Advance
A major advantage of crypto arbitrage is that unlike HODLing, or day trading Bitcoin on crypto exchanges, you can predict how much you will make with a high level of precision. For example, ArbiSmart offers guaranteed returns starting at 10.8% and reaching as high as 45% depending on the size of your investment. In fact, if you look at the ArbiSmart Accounts page, you will see exactly how much you will earn per month and per year based on your account level.
If becoming a millionaire is your goal, then you can invest 7 BTC, at its current price of around 50,000 EUR, and in less than four years, you will be a millionaire!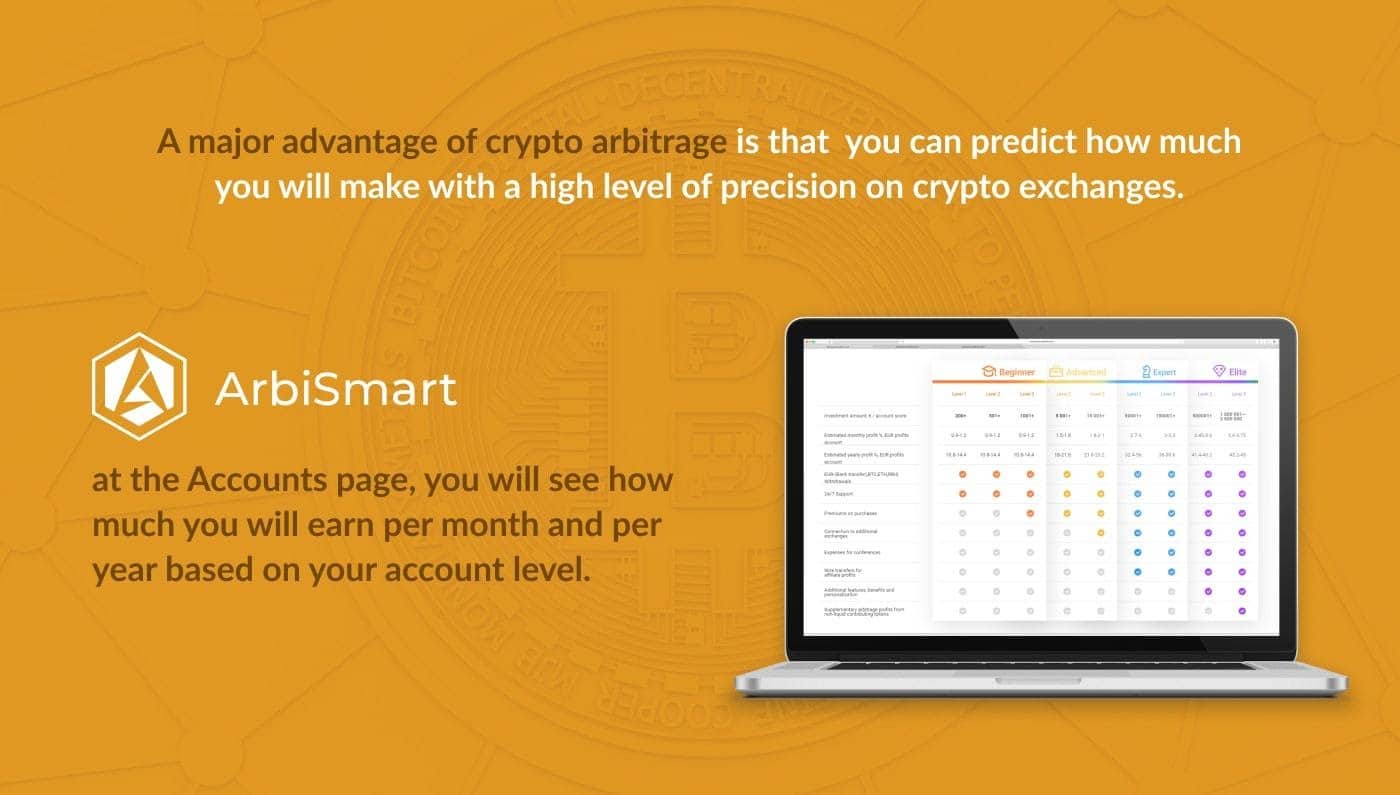 Keep in mind, that in addition to these crypto arbitrage profits, you will earn compound interest on your investment.  You will also make huge capital gains based on the steadily rising value of the RBIS token, which has already more than tripled in value since it was introduced in early 2019, having gone up by 350%. ArbiSmart has a number of additional financial services that it is launching later this year, and this combined with the fact that RBIS is set to be listed in Q4, will drive the price up further, leading analysts to project a rise to 20 times the current RBIS price by the end of 2021, potentially outperforming major coins like BTC and ETH. 
Make Sure Your Capital Is Secure
There is no point in becoming a millionaire if you lose all your capital to a hack or fraud, a not uncommon scenario in the crypto arena. For this reason, you need to place your crypto or fiat capital with a fully licensed and regulated platform. 
ArbiSmart for example, is FIU licensed, meaning that it is authorized to provide crypto-fiat financial services across the EU, and must comply with strict regulatory requirements. These include Know Your Client and Anti-money Laundering procedures, the separation of client and company funds, capital reserves to cover all operations, rigorous data security protocols and regular external audits.
At ArbiSmart, accountability is also ensured by a support staff that is available via numerous channels 24 hours a day.  The company provides an extra level of security, with 24/7 market monitoring by an expert risk management team. There is also round-the-clock platform monitoring from technical staff, so that there can be human intervention in case of emergency. So, it is no surprise, given the transparency and reliability of the platform, that it has great online feedback, across social media, and excellent customer review site ratings.
If you want to become a Bitcoin millionaire, by trading on the highly volatile crypto exchanges, you are taking a very large risk, with no guarantees you will not lose all your capital.  But, by investing your BTC, or any other crypto or fiat currency in a crypto arbitrage platform like ArbiSmart, you can benefit from a low-risk, high-return, guaranteed passive income that will enable you to steadily, and safely, grow your capital to the million mark in just a few years, with zero effort. 
Check out ArbiSmart's Arbitrage page to find out more about crypto arbitrage, or sign up now and start your journey to millionaire status.   
*This article has been paid. The Cryptonomist didn't write the article nor has tested the platform.