SPONSORED POST*
The digital currency market has had a tough few months, and crypto owners are finding it a challenge to maintain the value of their capital, never mind grow their portfolios. 
However, one cryptocurrency, RBIS, the native token behind the ArbiSmart project, is experiencing significant growth, and is exceptionally well placed to make major gains throughout the second half of 2022, while offering multiple passive revenue streams.
The ArbiSmart wallet and crypto ecosystem 
Established in 2019, ArbiSmart (RBIS) is an EU authorized interest-generating wallet and crypto services hub. The project has seen consistent year-on-year growth, and in January of this year, the RBIS listing process kicked off. Over the last six months, it has been added to a steady stream of tier-1 exchanges, like Uniswap and SushiSwap, while top names such as Coinbase are publishing user guides to buying the token. 
Right now, the June 2022 launch of the ArbiSmart wallet, is the first step in a major expansion that is set to take place over the second half of 2022.
The wallet offers high interest on 2, 3, and 5-year savings plans and supports an extensive list of traditional currencies like EUR, USD and GBP, as well as digital currencies like BTC, ETH, APE, AAVE, UNI, XRP, COMP, BNB, LINK, MANA, AXS to name just a few. The daily interest being earned can be added directly to the closed balance, or it can be automatically paid into an open balance where it is always available for immediate withdrawal.  
RBIS incentives
RBIS ownership by wallet holders is heavily incentivized and this is set to drive token demand as the service gains traction. 
To begin with, the amount of RBIS a wallet holder owns decides their account level. This in turn decides how much interest they earn on savings balances in all of the wallet's supported currencies.
In addition, RBIS balances earn the highest rates. All supported FIAT and crypto balances earn up to 49% a year, except for RBIS balances, which earn up to 147% a year. 
Also, savings in FIAT and crypto can earn a higher rate if the daily interest on the EUR or BTC balance is received in RBIS.
Voting power serves as an extra incentive for purchasing RBIS. Within the ArbiSmart ecosystem, one RBIS equals one vote, so more tokens mean greater influence over the future direction of the project.
Profits in a rising or falling market 
Another reason the  RBIS token has been experiencing steady growth, even as other coins have been tanking, is the bear-resilience of ArbiSmart's ecosystem. 
Whether a crypto owner decides to keep hold of their BTC or respond to a bear market by converting it into stable coins or traditional currencies, with an ArbiSmart wallet they can store their funds securely while it generates passive profits.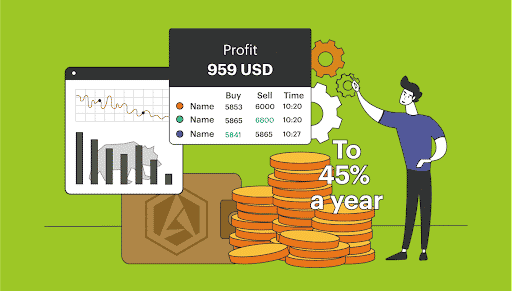 So long as they own a minimum amount of RBIS, they can put the rest of their FIAT or crypto to work, and by the time the savings plan expires they can have easily more than doubled their chosen currency. As a result, even in a bear market, demand is rising and RBIS is able to climb in value, which means great capital gains, on top of the interest from long-term savings plans.
An additional factor contributing to the strength of the RBIS token is "supply shock". Over the coming weeks and months, as the wallet takes off, more RBIS will be leaving general circulation to be locked for between two and five years in wallet savings plans. This will cause the  limited supply of RBIS to shrink, pushing up the price.  
The interest-bearing wallet is not the only bear-resistant RBIS utility offered within the ArbiSmart hub. The project's automated crypto arbitrage service generates passive profits of up to 45% a year from brief instances where a coin is temporarily available across exchanges, at different prices at the same time. These price differences emerge just as frequently, in a bull or bear market and can occur for all kinds of reasons, such as a disparity in trading volume or liquidity level between two exchanges of different sizes. This makes the service a great hedge against falling prices. 
Project expansion in the second half of 2022
Another reason that the token is on a clear upward trajectory in the coming months is that in Q3 and Q4 of 2022 ArbiSmart is launching multiple utilities in rapid succession, all fueled by RBIS, meaning the token will be required to use each of the services. 
The new utilities will include a mobile version of the platform, and a decentralized yield farming program rewarding participants for staking with up to 190,000% APY and 0.3% of the fees from every trade. The second half of the year will also include the introduction of a collection of thousands of unique digital artworks, in addition to an NFT marketplace for buying and selling Non-Fungible Tokens. Also, a crypto exchange is in the pipeline, as well as a gaming metaverse, where visitors can purchase, develop and sell digital plots of land.
Each of these utilities is interconnected, with benefits when used alongside other services across the ArbiSmart ecosystem. So, an NFT from the marketplace might have a gamification function within the yield farming program increasing profits or serve as an avatar in the metaverse. As a result, RBIS demand is set to rise even higher in the months ahead. 
In a rising or falling market, ArbiSmart offers the means to generate steady passive profits from all types of coins. With the many new utilities in the pipeline for H2 driving demand, while supply diminishes, RBIS is on track to explode in the coming weeks and months, even as crypto's biggest names are sinking in value. To get hold of the token, at an affordable price, buy RBIS today. 
*This article has been paid. The Cryptonomist didn't write the article nor has tested the platform.