SPONSORED POST*
With the bear market bringing prices crashing down in recent months, many crypto owners are cutting their losses, while others are HODLing until the market bounces back.
Those are not the only options though. There is one way you can actually make a lot of money, even in a downturn, without lifting a finger,  and that is with an interest-bearing crypto wallet.
What are the benefits of a wallet?
For many, the primary benefit of owning an interest-bearing wallet is that your capital is working hard on your behalf, generating a steady consistent profit instead of just sitting idle. Your chosen currency will continue to earn the same rate of interest, in either a bull or bear market, so even during a crash, your balance will keep growing.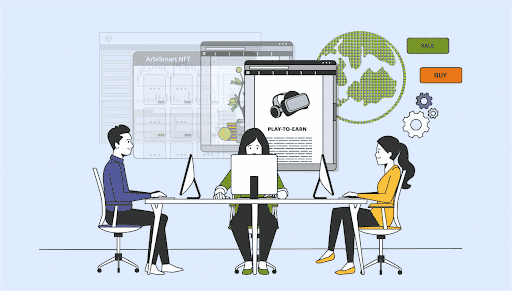 Then there is also the security factor. With a trusted, reliable wallet, you have a secure haven for your crypto until the market recovers.
To see how wallets work and how you can generate profits, let's use the much buzzed about, up-and-comer, ArbiSmart, as an example.
ArbiSmart is an EU authorized interest-generating wallet and crypto-finance ecosystem. The wallet was launched at the beginning of this month, and it offers secure storage on a wide array of FIAT and cryptocurrencies, such as EUR, GBP, USD, BTC, XRP, ETH, COMP, AAVE, BNB, APE, USDT, AXS, MANA, and many others. 
What about profits?
The size of your passive profits depends on various factors:
The accessibility of your capital: With an ArbiSmart wallet you can choose to keep your traditional and digital currencies permanently accessible, or you can place them in a long-term savings plan, where they are locked for two, three or five years. The longer the lock on the funds, the higher the interest rate you receive. 
You can choose to receive your interest, which is paid out daily, in a couple of ways. It can be added to the funds on which it is being earned, in the locked savings balance. Or, you can choose to have it automatically transferred each day into a separate, available balance where it can be withdrawn any time, though this option earns a lower rate.
The amount of RBIS you have: Another factor impacting your profit potential is ownership of ArbiSmart's native token, RBIS. Your account level, which is determined by how much RBIS you hold, decides how much interest you earn on balances in all supported currencies. In other words, the more RBIS you have, the more you can earn on your EUR or BTC savings balance.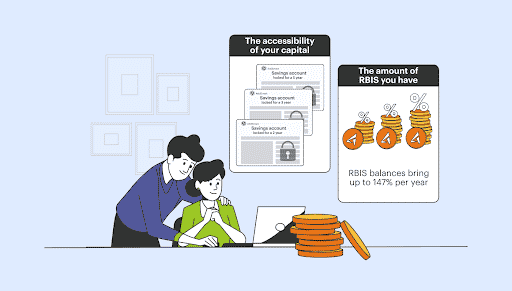 Also, if you choose to open a savings balance in RBIS, you can earn three times more than you would earn for keeping your funds in any other currency. All ArbiSmart FIAT and crypto savings balances earn up to 49% a year, except for RBIS balances which generate up to 147% a year.  
If you wish, you can opt to keep your savings balance in your preferred FIAT or cryptocurrency and just receive your daily interest in RBIS, as this will also raise the rate of interest you receive. 
These incentives to use the RBIS token are likely to result in rising token demand. Meanwhile, as the new wallet gains a wider user-base over time, a growing amount of RBIS will end up locked in savings plans, taking it out of general circulation. This will reduce the available RBIS supply, which is already limited, since the maximum number of tokens that  can ever be created is forever capped at 450 million. So, with rising demand and a shrinking supply, the token price is set to increase substantially by the end of the year.
In fact analysts are projecting that RBIS will rise to 48 times its current price by December 2022. This means that in addition to  profits from interest on savings, wallet holders will enjoy potentially huge capital gains on the RBIS token's rising value.
How else can you increase your passive profits?
The most potentially lucrative wallets will belong to projects with multiple sources of revenue and in this respect too, the ArbiSmart project doesn't disappoint.
In addition to the wallet, ArbiSmart currently offers crypto arbitrage, a bear-resilient automated investing system that generates passive profits of up to 45% a year, from temporary price disparities across exchanges.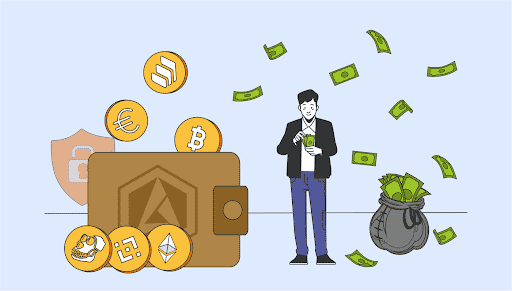 In the second half of 2022, the ArbiSmart ecosystem is expanding with multiple new RBIS utilities. All these additional services being introduced in Q3 and Q4 will require use of RBIS, further increasing token demand.
To begin with, in Q3, ArbiSmart is introducing a mobile app, which will be immediately followed up by the launch of a decentralized yield farming program, which will generate up to 190,000% APY, plus 0.3% of the fees on each trade. 
Close on its heels, ArbiSmart is introducing an NFT marketplace, where participants can buy and sell non-fungible tokens, as well as a collection of thousands of one-of-a-kind digital artworks. In addition, the development team has a cryptocurrency exchange in the pipeline, as well as a play-to-earn gaming metaverse, where visitors will be able to earn real-world profits for buying, selling and developing virtual plots of land. 
So, wallet holders can earn interest on their savings plan, as well as profits from using various other ArbiSmart services. As the wallet gains momentum and new RBIS utilities are launched in the coming months the token value is likely to rise leading to additional gains.
As we can see, placing capital in an interest-bearing wallet can generate generous profits in both bull and bear markets. To give it a go, try the ArbiSmart wallet today! 
*This article has been paid. The Cryptonomist didn't write the article nor has tested the platform.