SPONSORED POST*
Deals, discounts and rewards: these three words define Black Friday. A celebration of consumerism, Black Friday allows various brands to attract customers worldwide. Apple, Nike, Gucci; you name the brand, and you will find a deal. 
Black Friday is also auspicious in the crypto market. Since cryptocurrencies became a rage, several tokens have used Black Friday as an opportunity to make people more interested in the world of blockchain, NFTs and DeFi. 
This year it is no different. While day traders will use swing trade strategies to enter the trade at the right time, several tokens in their presale are giving excellent rewards on Black Friday. A new meme token in the market, Big Eyes Coin (BIG), has taken over the meme crypto market by raising more than $10.2M in its presale so far. With Big Eyes Coin still in stage six, investors will be able to enter the presale and get 50% bonus coins on their purchases. 
Keep reading till the end to know about the offer.
Here are 3 reasons why you should invest in Big Eyes Coin:
NFT Club And Sushi Crew
As a community-driven token, Big Eyes Coin has dived into the NFT wave. The meme token plans to launch a fully-integrated NFT club where users will be able to use BIG tokens to exchange digital assets. Users can get on the platform and take part in various competitions to earn rewards. 
To compete with ApeCoin's (APE) BAYC, Big Eyes Coin will also launch ten NFT projects, which will be carefully designed and curated featuring the cute cat mascot taking to the sea. NFT collections on several marketplaces have made a name for themselves. It is only a matter of time before Sushi Crew gets the celebrity attention that it deserves. 
DeFi And CEX Launch
As blockchain technology has evolved over the past decade, it is giving a tough competition to traditional financial services with DeFi (Decentralised Finance). Big Eyes Coin aims to fire up the DeFi ecosystem by pouring wealth into it. 
The token has also secured a CEX launch, which means that soon enough, users will be able to exchange BIG tokens on a regulated crypto exchange which centralised, removing all possibilities of slippage charges and making the experience of buying/selling/holding cryptocurrencies a smooth one.
Sustainability 
Cryptocurrencies get flak for its mining process which contributes to the world's global warming issue. However, Big Eyes Coin has taken responsibility and created a charity wallet to save the ocean. Sea life is getting polluted due to increased use of plastic and oil leaks in the ocean. Big Eyes Coin's 5% wallet profits will help the oceans regain its purity.
To Sum Up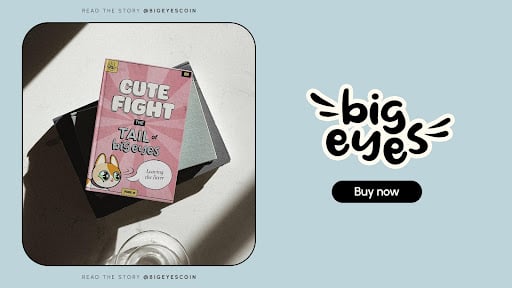 To celebrate the community's excellent presale success, Big Eyes Coin is giving an exciting offer. Use the code BLACKFRIDAY50 to get 50% bonus coins this Black Friday. Big Eyes Coin is proving to be a utility coin and investors are very positive regarding the coin's future prospects.
Click on the links below to get the Black Friday discount on BIG tokens!
Presale: https://buy.bigeyes.space/
Website: https://bigeyes.space/
Telegram: https://t.me/BIGEYESOFFICIAL
*This article has been paid. The Cryptonomist didn't write the article nor has tested the platform.