SPONSORED POST* 
Anyone interested in becoming a millionaire may invest in the crypto space. The coin market is renowned for wild price moves. As a result, it has the potential to produce several millionaires. If you can navigate market conditions properly, there's always a chance to make plenty of money on the coin market. The best thing to do is to identify reliable projects to invest in. Good crypto projects regain their lost value after a bear market is over. 
So, what are reliable projects to invest in to become the next crypto millionaire? Keep reading to find out more. This piece will show why you should buy Ripple, Tron, and Big Eyes Coin to become the next crypto millionaire. 
Ripple 
Ripple is one of those projects in the crypto space that you can trust. This cryptocurrency has managed to recover from one of the worst scandals in the coin market history. There are many interesting things to note about this project. To start with, Ripple has been on the coin market for a relatively long period. It's been around since the days of Bitcoin.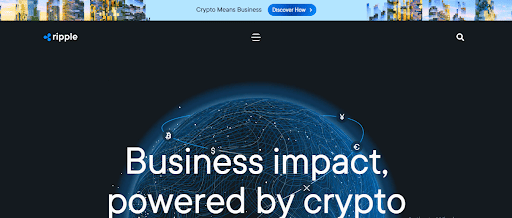 This project was designed to be a payment processing platform. It has the capacity to process the transfer of multiple types of financial assets, including crypto and non-crypto assets. Ripple functions like a digital payment system. The only different is that this one's hosted on the blockchain. Ripple's native token, XRP, are premined. This project also uses a consensus mechanism that relies on a group of computer-based servers. As a result, it requires less computational power than Bitcoin. 
Tron 
Tron is one of these crypto market projects with a utility that's hardly found anywhere else. This cryptocurrency will allow creators use the platform to sell their work. Because the cryptocurrency project is hosted on the blockchain, creators can get fair value for what they produce. TRX is the token symbol for this decentralized protocol. Users will pay TRX to purchase items on this platform. 
Big Eyes Coin
If you're interested in becoming a millionaire, Big Eyes Coin is one of the best projects to help you out. Big Eyes is a meme coin that's set to be released soon and this may lead to a rapid increase in price. The hype around Big Eyes has seen an increase as the cryptocurrency project draws closer to its release date. Many people have identified Big Eyes as a meme coin with plenty of potential. As things stand, it may be the next big thing in the meme sector. 


Big Eyes' developers have their sights set on the long term. They have designed a project that will gradually climb to the top of the cryptocurrency market. To do this, they have ensured that Bug Eyes has a utility unlike other projects in the coin market. Traders can use Big Eyes to create their own NFTs. The more NFTs are made using Big Eyes, the more the vale of the cryptocurrency will continue to increase. 
Big Eyes is an Ethereum-based project. This means that BIG is an ERC-20 token. When Big Eyes is finally released to the cryptocurrency market, it will be released on Uniswap. Big Eyes is currently holding a competition for those who participate in its presale, the prize for the competiton is $250,000. Winners will be selected depending on the number of Big Eyes they purchase during the presale. Anyone is still free to join the sixth stage of the presale. All you have to do is navigate to the Big Eyes website or click on the presale link. 
This Black Friday you can get 50% bonus tokens with your Big Eyes purchase. Just use the code BLACKFRIDAY50
Big Eyes Coin (BIG)
Presale: https://buy.bigeyes.space/ 
Website: https://bigeyes.space/ 
Telegram: https://t.me/BIGEYESOFFICIAL 
*This article has been paid. The Cryptonomist didn't write the article nor has tested the platform.