SPONSORED POST*
Meme coins are an important part of the crypto landscape: they pair serious blockchain technology with something fun and joyful, something accessible to the mainstream web 2.0 user. Not only this, but meme coins hold an impressive ranking within the cryptocurrency rankings. Dogecoin (DOGE) currently ranks #9 and Shiba Inu (SHIB) sits at #14, according to CryptoSlates rankings.
It is safe to assume, then, that Big Eyes Coin ($BIG) can break into the top 10 if it continues as strongly as it has during its presale stages. Having raised over $18 million (so far!) in this bear market is an impressive feat – one that promises that post-launch, Big Eyes Coin is coming for Dogecoin's spot. 
Dogecoin: How This Pioneer Coin Has Created Space For New Meme Coins 
The meme cryptocurrency sector owes a lot to Dogecoin (DOGE). Made initially to satirize the initial hype around Bitcoin (BTC), it has now become a mainstay of the crypto landscape. Taking the then-widely popular meme Doge and mixing it with blockchain technology proved to be a widely popular combination, and sparked what we know as the meme coin sector. 
Dogecoin does lack in utility – in that way, it mirrors Bitcoin – but it holds the highest rank of any meme coin for good reason. During 2021, it hit its all-time high (ATH) of $0.68 – and it sits currently at $0.07. This demonstrates the potential for growth in the next bull run, and the potential for investment profit remains very high.
Shiba Inu: An Impressive Meme Ecosystem
Shiba Inu (SHIB) is the next meme coin worth taking note of. It built on what Dogecoin did and improved it, with an array of features and offerings. Most importantly, too, is that it is community-driven. With three native tokens, including its governance token BONE, the Shiba Inu coin community has plenty of variety and say in the direction the ecosystem goes. 
Not only this but Shiba Inu's ecosystem has recently been upgraded. It now has a layer-2 network, called Shibarium, that will upscale Shiba Inu's offerings. To quote their website: "Shibarium's layer 2 is a collective blockchain that scales and invites solutions, innovation, and security to the Decentralized Finance Space. This blockchain (L2) runs on top of the Ethereum blockchain, which the SHIB ecosystem tokens (SHIB, LEASH & BONE) utilize. A Layer 2 blockchain provides the benefits of scalability, faster transaction times, lower fees, and an expanded development framework." Not only this, but Shiba Inu's offering also includes NFT collections and a metaverse offering. SHIB is currently priced at $0.000012, which is considerably lower than DOGE, meaning it could be a very astute addition to any crypto investment portfolio. 
Big Eyes Coin: $18 Million In Presales, And For Good Reason
Many call Big Eyes Coin (BIG) the next generation of meme coins, and for good reason. Since it came onto the crypto market late in 2022, it has gone from strength to strength, raising $1 million in a week, and subsequently raising $18 million so far. In a bear market, this is nothing short of remarkable and speaks to the level of promise Big Eyes Coin has. 
Much like Shiba Inu, it intends to develop a diverse and impacting ecosystem. Once it launches, it will begin minting Big Eyes NFTs. Users will be able to buy, sell, and trade their Big Eyes NFTs, becoming members of the exclusive NFT Sushi Crew. Membership will be rewarded with exclusive content, bonuses, and airdropped gifts. There will also be community-driven initiatives, a zero-taxation policy on BIG purchases, and bonuses as Big Eyes Coins go through its presale stages. For example, there is a 200% bonus code promotion right now, which means that any purchase of BIG will be given an automatic 200% bonus! By using code LAUNCHBIGEYES200, if you purchase $500 worth of Big Eyes Coin, you will be rewarded with an additional $1000!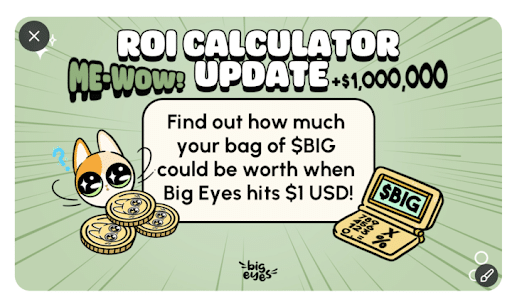 The Big Eyes team has also recently made upgrades to its website, with its native profit calculator. It helps investors work out how much their BIG investment will be worth at major key landmarks – including launch, and how much it would be valued at when BIG hits $1. Big Eyes Coin has become an important part of the meme coin landscape and is worth having in any crypto investment portfolio. 
For All Things Big Eyes Coin (BIG): 
Presale: https://buy.bigeyes.space/ 
Website: https://bigeyes.space/ 
Telegram: https://t.me/BIGEYESOFFICIAL 
*This article was paid for. Cryptonomist did not write the article or test the platform.