SPONSORED POST*
Whilst the Crypto market is still recovering from a bear market, there is plenty of room for you to get into great investment opportunities at a time when prices are still relatively low. That way, when the bulls come running, you'll be ready to see your bag of gems explode to new heights!
But with so many cryptos circulating, and new coins flooding into existence every day, it can be a hard time for people that aren't so sure where to start… In this article, we will be highlighting three underrated crypto gems that have crazy potential: Dogetti(DETI), Filecoin (FIL) and Uniswap (UNI).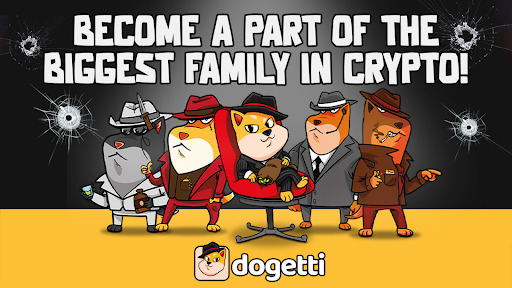 Dogetti – Brand New Presale Set For Success 
Launched on the Ethereum blockchain, Dogetti (DETI) aims to stand out from the competition by providing more to its community. DogettiSwap, a decentralised exchange where you can trade one ERC20 token for another, will be the key use case for Dogetti. Due to its user-friendly trading interface, anyone may easily access the market, which also helps to promote the widespread adoption of cryptocurrency.
Additionally, through DogettiNFTs, buyers will be able to mint their own Dogetti pet. There will be a number of drops where traders may collect, purchase, trade, and sell these NFT's. Another great reason to invest in Dogetti is that, according to its 2% reflection protocol, it frequently rewards the devoted and powerful community. The Dogetti family wants to spread their growing fortune among all members of the family – fair and square. With all these incredible features coming from Dogetti, their presale certainly seems to be headed for the stars!
Filecoin – File Your Data Freely
In a world where storing data in a safe and responsible way is both extremely rare and valuable, Filecoin (FIL) aims to solve this issue as a decentralised cloud storage network.
They plan to construct a decentralised database where the most important knowledge and data in the world will be stored and users will pay for data distribution and storage services on the peer-to-peer Interplanetary File System (IPFS) network using the $FIL currency.
Decentralisation gives Filecoin its strong advantage over alternative centralised cloud storage services; this feature can be utilised to ensure that a data's position is accurate, making it simple to recover and challenging to censor. When compared to other web services such as Cloudflare and Amazon Web Services, Filecoin would win this battle as it offers much more than a centralised storage space – it offers people the ability to fully protect their data.
Data is valuable, and as technology develops, many of us are growing increasingly concerned about its security and privacy. As this issue becomes more significant with time, this could draw in a lot more Filecoin users, making FIL a desirable investment!
Uniswap: The Top Decentralised Exchange
Users can rapidly and easily transfer Ethereum-based ERC20 tokens using Uniswap (UNI), one of the biggest and most secure decentralised exchanges for exchanging tokens. Uniswap was first introduced in November 2018 as a platform designed to reduce requirements and open up token swaps to all users. Users are able to purchase and sell digital assets without the requirement for a central authority thanks to automated market makers (AMM).
Therefore, Uniswap reduces counterparty risk by providing a completely decentralised platform – all transactions are carried out peer-to-peer, directly between traders, with no middleman. Additionally, because there is no middleman in the transaction, Uniswap users enjoy low trading fees. Another unique quality of the Uniswap token (UNI) is that it grants users access to an astounding array of digital assets, enabling investors to diversify their holdings across many different tokens.
Whilst the next bull market is still speculative as we're in the early days, as the good saying
goes, it's always better to be prepared! Why not get ahead of the herd and invest in three underrated gems that could help you see gigantic gains: Dogetti (DETI), Filecoin (FIL) and Uniswap (UNI)
Dogetti (DETI)
Presale: https://dogetti.io/how-to-buy
Website: https://dogetti.io/
Telegram: https://t.me/Dogetti
Twitter: https://twitter.com/_Dogetti_
*This article was paid for. Cryptonomist did not write the article or test the platform.