SPONSORED POST*
Altcoins Experiencing Success Despite Top Crypto Stuck On A Downward Trend: Litecoin, Toncoin and Dogetti
Volatility in the crypto market is common and is to be expected no matter the rank of the crypto; unpredictable changes can happen from the bottom all the way to the top. But more than ever, top cryptos like Bitcoin (BTC) and Ethereum (ETH) have been on the receiving end of changing charts and downward trends, usually as a result of moves made by outside entities. The first sign of this in 2023 was after regulation announcements were made in the US and the UK, something that was felt across the market as a whole. But while many have recovered since then, Bitcoin especially has struggled to stabilise, falling below the $24,000 resistance line and failing to maintain the momentum of every rally it experiences.
But now is the perfect time for an altcoin blow-up, with many other ranked tokens on the market currently experiencing positive growth over this past month. As we head into March, it would be interesting to see which cryptos succeed and if a shake-up of the market is in the near future. With that in mind, these are the three successful altcoins that could potentially explode this year.
Litecoin Is More Than Just a Fork
Litecoin (LTC) ranks 13th in the top crypto by market cap, evidence that it's already an established coin with a strong community and proven functionality. For the past 11 years, Litecoin has focused on improving crypto payments, enabling "instant, near-zero cost payments to anyone in the world". As a P2P, or peer-to-peer, platform; it allows holders to make transactions and payments without the need for help from middlemen. Despite acting as a Bitcoin fork, Litecoin has been enjoying steady growth despite the controversy that surrounds Bitcoin. It currently trends a little over $95, but at one point this year was valued at $105. Litecoin has grown by 2.57% in the space of the week and will seemingly remain in the green heading into March. Should it pass a resistance level of $108, Litecoin could skyrocket.
Toncoin Is Not Just Another Network
Much like Litecoin, Toncoin (TON) is one of the few coins in the top 100 cryptos by market cap that has consistently been all green across the board recently, showing regular positive growth. TON, or The Open Network, is a protocol created by Telegram capable of processing millions of transactions per second, helping streamline the process for its users. Telegram is one of the main social media platforms used by crypto enthusiasts, so it was a "no-brainer" for the platform to set up its own blockchain network that bridged to the Ethereum Network and got rid of unnecessary middlemen.
Toncoin is currently trading at $2.51, a 26% increase from where it was in January. It is outdoing its SMA, Simple Moving Averages, which shows that the bulls are pushing for its success. Reasons for its current success include a collaboration announcement with Hub71, an international tech ecosystem based in Abu Dhabi. This is a big move for the network as it improves its efforts of streamlining with extra funding and marketing.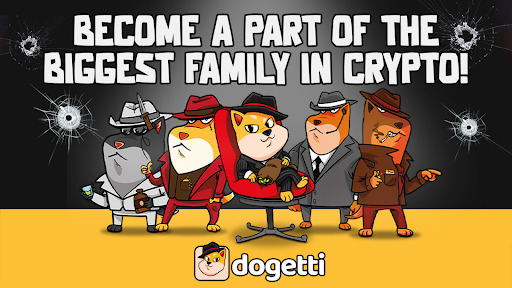 Dogetti Redistributes Wealth
Unlike the other two cryptos on this list, Dogetti (DETI) is not actually on the market at the moment. With that said, it's already proving to be one of the most impressive presales of the year. The Project puts a real focus on the community being "the biggest family in crypto", aiming to create a coin that creates a real sense of belonging and shared purpose among its community. To do this Doggetti, presented as a meme coin, doubles as a reflection token that redistributes wealth. The plan is for 6% of the overall supply to be redistributed in 4 different ways with every single transaction of DETI that is made. 2% will be split between liquidity and burn wallets to guarantee the longevity of the token, 2% will be put into a charity wallet that the community has full control over when it comes to deciding where to donate it and finally 2% will be distributed back into the community, giving all holders extra tokens just for holding. An altcoin establishing true wealth for its buyers and giving them control of it is revolutionary and if it's pulled off effectively, Dogetti could potentially become one of the biggest things to come out of 2023 for crypto.
Right now is the best time to get involved with Dogetti as stage 1 of its presale is quickly coming to an end with less than $170,000 left to reach its goal of $500,000. The token is the cheapest it will ever be right now and there is currently a "secret family" welcome code for early investors, so it would be unfortunate to miss out on this chance to be one of the first to get involved with a crypto project that actually cares about you as an individual. Use the code WISEGUY25 during your purchase and get 25% extra tokens on top of it.

For More Information On Dogetti (DETI):
Presale: https://dogetti.io/how-to-buy
Website: https://dogetti.io/
Telegram: https://t.me/Dogetti
*This article was paid for. Cryptonomist did not write the article or test the platform.