SPONSORED POST*  
The cryptocurrency market has been a roller coaster in the past few weeks. The year got off to a great start for most crypto assets as we saw some impressive price action in regaining the value it lost towards the end of 2022 to the FTX drama. The FTX issue has subsided, but we can still feel its effect in the market; users are scarred from losing money in such a manner, and some crypto enthusiasts suggest that this could cause even longer bear markets.
However, the market has shown some strength, and it would be smart to start stocking up on your favorite tokens as we come closer to another bull market. Dogetti(DETI) and other tokens will be great picks for the next bull run. We already have some interesting narrative brewing in the market; we could see another bull run fueled by Asia rather than the West like the last run. In that case, here are some cryptocurrencies to prepare yourself for some volume coming into the market.
Filecoin(FIL): Perfect for Storing all Your Rewards
Filecoin(FIL) is a decentralized cloud storage network that allows users to lease and rent out storage space for rewards. It is a decentralized storage market and offers some advantages over the centralized market. It is less costly, faster, and more secure because it uses cryptographic proofs to secure user files and data. The FIL token is popular for its impressive price run in 2021 from presale and is still probably one of the most exciting presales buys for any who got involved. More interestingly, Filecoin(FIL) has been involved in the list of Chinese tokens to watch out for as the narrative grows. Filecoin passes as a Chinese token, particularly because most of the miners' community is dominated by Chinese people.
Aptos(APT): Securing The Network
Aptos(APT) is a new layer-1 blockchain network created by engineers from the abandoned Facebook project, Diem. The network hopes to find new dynamics to solve issues in the blockchain landscape. These issues include scalability, usability, reliability, security, and upgradeability. The network uses a new programming language, Move, which introduces some new dynamics compared to existing programming languages in the blockchain industry. Aptos(APT) launched as an airdrop to early network testers last year, and it would be looking to push for more volume this year. APT has been impressive on the market this year and is a great pick if you're looking for gains.
Stacks(STX): Extra Layer of Security
Stacks(STX) is another crypto asset with impressive price action over the past few weeks, and we could see more from the token when huge volume comes to the market. Stacks (STX) is a Bitcoin system that adds a programmable layer, which explains the origin of the name. This second layer expands and improves Bitcoin's functionality and scalability without changing its fundamental programs. Developers may use Stacks to build Dapps, smart contracts, and digital assets that share Bitcoin's security and decentralization.
Interestingly, Stacks(STX) functions independently of Bitcoin yet relies on the token for their basic operation. Stacks transactions, for example, settle on the Bitcoin blockchain, and network nodes collect Bitcoin rewards. Stacks appears to benefit from the Ordinals hype, and smart investors know to take advantage of this for now.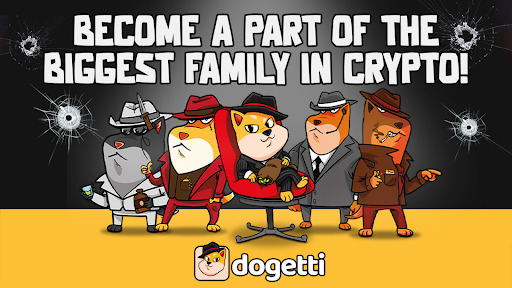 Dogetti(DETI): Top Mafia Dog
Dogetti(DETI) is a new ERC-20 memecoin, and the token will utilize the Ethereum blockchain to the best of its potential. The new dog meme token is inspired by the success of Shiba Inu(SHIB) and Dogecoin(DOGE) and is looking to establish even more significant footprints in the memecoin landscape. Dogetti's memes are inspired by mafia-themed books and stories, allowing the unique portrayal of the new project. Dogetti aims to create use cases, including DAO, NFTs, and DeFi. DogettiDAO will enable community governance and give holders veto power to decide on pivotal issues of the project. The NFTs will create more fun and value and serve as an access ticket to community events and more content.
With DeFi being a major focus, DogettiSwap will be a protocol for swapping tokens, and the 6% tax fee will go back to holders, charity, and the liquidity pool, serving as a tool for wealth creation. Dogetti(DETI) has huge prospects toward launch, and you should join the presale here now.
Presale: https://dogetti.io/how-to-buy
Website: https://dogetti.io/
Telegram: https://t.me/Dogetti
Twitter: https://twitter.com/_Dogetti_
*This article was paid for. Cryptonomist did not write the article or test the platform.