SPONSORED POST* 
Recovering from the ruins of the crypto winter is the paramount thing to most crypto enthusiasts at the moment. Optimising your current portfolio with promising altcoins is the best way to achieve this. With proper analysis, research, and staying updated on crypto news, you will be able to draw a list of possible portfolio-improving purchases. Whether you have a list already or you're about to build one, Ripple (XRP), Compound (COMP), and Dogetti (DETI) are names that shouldn't be missing from your list. Considering these altcoins for your portfolio could be a good decision.
XRP (XRP) – Investment with a Positive Ripple Effect
The XRP Ledger is a decentralised and open-source protocol where users can enjoy fast and scalable services at a low cost. It boasts about 3-5 seconds transaction speed and can handle about 1,500 transactions per second. The platform provides Micropayment, tokenization, and DeFi-related services.
It attracts users with its numerous features and applications. The platform's native token, XRP,  remains one of the top crypto assets by market capitalization despite its setbacks over the years. The under $1 crypto asset has a $20+ billion market cap but has struggled to increase in value since the crypto winter. Despite its cycle of pump and decline, experts are optimistic about its prospects. The crypto asset may likely hit $1 before the year ends.
Compound (COMP) – Let the Money Grow
Compound is a decentralised finance (DeFi) platform for crypto lending. The highly rewarding platform allows you to earn interest on your crypto assets by funding the platform's supported pools. As a liquidity provider/lender, you get a cToken each time you fund a pool. These tokens represent your stake in the funded pool, and you'll need them to redeem crypto deposits when you wish to withdraw at a profitable time.
Borrowers take out loans from the funded pools after depositing collateral. The loan is paid back with interest, which is shared equally with liquidity providers. However, borrowers will forfeit their collateral if they fail to repay the loan. The collateral will be liquidated and shared equally amongst the pool funders. COMP is the platform's governance token. It allows users to propose changes, vote, and debate others' suggested opinions. After hitting an all-time low in the previous year, the cryptocurrency is now rallying upward as it aims to reach a significant three-figure market price. Although many do not see it hitting its last all-time high anytime soon, it could, however, yield good profit.
Dogetti (DETI) – Hottest Meme Coin On the Market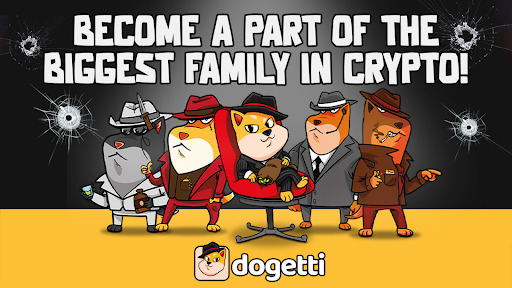 Dogetti is a revolutionary meme coin aiming to become a TOP DOGE in the meme coin ecosystem while building a strong and United community called the "Dogetti Family." The Dogetti community will be an ecosystem of opportunities and rewards. Users will be entitled to a part of the transaction fee, while they can also explore any of the project's other utilities for benefits.
Dogetti will function on the Ethereum network. It will feature an ERC-20 token facilitating every activity in the ecosystem. The Dogetti token (DETI) will be used as payment for transactions in the DogettiSwap. It will facilitate governance and confer voting rights in the DogettiDAO and will be needed for the minting and trading of Dogetti NFTs. The multiple uses of DETI will make it more valuable as time goes on.
Dogetti (DETI) supply will be channelled towards presale, marketing, exchange, and swap. About 50 billion (half of the total supply) will be available on presale, while 10 billion will be used to promote the meme token through numerous marketing endeavours like Airdrops, giveaways, and contests.
Dogetti (DETI) is currently in its presale stage, and an early presale purchase is likely to make a good long-term investment.
Check out Dogetti Below:
Presale: https://dogetti.io/how-to-buy
Website: https://dogetti.io/
Telegram: https://t.me/Dogetti
Twitter: https://twitter.com/_Dogetti_
*This article was paid for. Cryptonomist did not write the article or test the platform.