Read here part 1 of this FAANG and blockchain article
Among the names of the web, the giant Amazon not only has always sold goods but has also long marketed data storage and computational capacity.
Given its position as a service provider, it was natural for the company to develop its own AWS platform, called Amazon Web Services, to support blockchain solutions: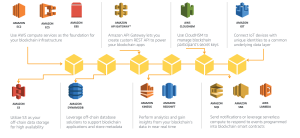 The platform allows integrating on the blockchain all the services offered by the giant of Jeff Bezos, with the possibility to receive assistance and advice from specialized technicians. This solution is now well established and used by several companies.
It was announced on 17 July that artificial intelligence would also be integrated into the platform with an anti-fraud function and service management.
At the beginning of 2018, the possibility that Amazon would accept cryptocurrencies as payment or even create an exchange was mentioned, especially after it was discovered that some domains that merged Amazon with the name of different cryptos (amazonethereum.com, amazoncryptocurrency.com, amazoncryptocurrencies.com) were registered at the end of 2017. The rumours were incorrect or over-optimistic, and nothing happened in this area.
What we know about Netflix
Among FAANGs, the one that, for the moment, seems to be the least involved in blockchain space is Netflix, probably because of the nature of its business, which is essentially aimed at media.
In 2016, there was news of the introduction of the possibility of paying for subscriptions via bitcoin, but this opportunity has not yet come true.
Yet this large streaming company should pay close attention to developments in the DLT sector because the possibility of transmitting data in a decentralised and secure manner is not limited to the financial sector.
There are already applications such as Livepeer on Steem's blockchain and Viuly on Ethereum that set themselves the goal of multimedia sharing. Even Tron was initially born as a multimedia sharing platform.
The work of Google
Alphabet, Google's holding company, is also taking an active interest in blockchain technology. As early as 2017, a patent had appeared for an unfalsifiable blockchain belonging to the Mountain View company and there were talks of two lines of development within the blockchain: the first related to security, the second to the management of services on the cloud.
However, the two strands seem to have merged and Alphabet is about to launch a cloud service linked to transaction verification and security.
In recent months there has been a considerable expansion in this sector through the recruitment of experts and agreements reserved with start-ups, according to a consolidated scheme they want to enter forcefully into an innovative sector.
There have also been contacts with the Hyperledger Consortium, but it is not clear if this will be the main partner for the development of the Mountain View blockchain. In short, although official sources confirm the presence of an in-house study nucleus, it is not yet clear when or in what area this technology will be applied.