In Sweden, on the official Twitter profile of the Swedish Social Democratic Party, Socialdemokraterna, an announcement appeared stating that the Government would replace the Swedish krona with bitcoin (BTC) as the official currency.
The tweet, however, was later removed because it was actually a joke. Or rather, a hack attack: some hackers persuaded Twitter to give them control over this profile, after which they posted this tweet, changed the logo of the profile adding the B of Bitcoin, and renamed the profile to " Bitcoin Democrats".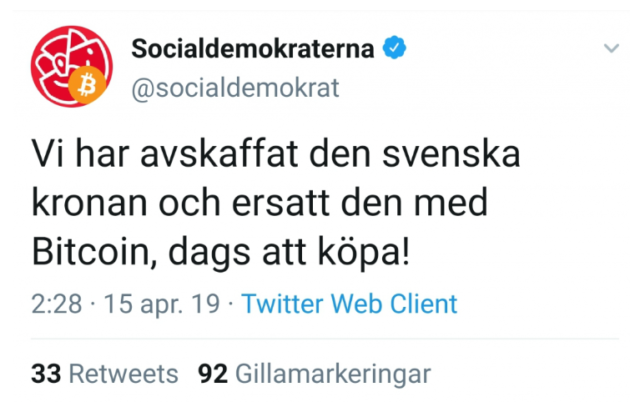 The fact is that the Swedish Social Democratic Party is currently the ruling party in the country, with almost 30% of seats in Parliament and its leader, Stefan Löfven, is currently Prime Minister.
Therefore, those who saw that tweet on the party's official profile might have believed that the replacement of the Swedish krona with bitcoin was a real initiative of the Swedish government, and perhaps even convinced themselves that it was true. The tweet ended by saying that it's "time to buy" bitcoin.
This happened on April 15th, when several other suspicious tweets were published on this Twitter profile, including one announcing Löfven's resignation as Prime Minister.
During an interview with the local newspaper Trijo, one of the five hackers involved in this initiative then declared that he had done so because he thinks that socialism "is wrong". The method they would have used involved convincing Twitter support to allow them to use the function to reset the password of the account.
"I simply contacted Twitter support and pretended to be Stefan Löfven. Twitter is very good at verifying identity, but we have found a way around it".
In fact, hackers asked for assistance in changing the email address for the Twitter account and created a new domain that contained the party name. They asked to replace the email address of the account with a new one created by them on the new domain and, although Twitter had asked for the official documentation to prove the identity of the person, in the end the hackers managed to have it changed. At this point, it was not difficult to reset the password and take over the account.
Twitter took 30 minutes to notice that something was wrong, after which it blocked the account and then returned it to its rightful owners.