Binance vs Bitfinex: which are the best performances for the IEOs launched on these two exchanges?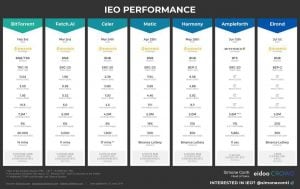 Eidoo has created a chart to compare the main exchange offerings, taking into account tokens such as BitTorrent, Fetch.AI, Celer, Matic, Harmony, Ampleforth and Elrond. 
Of these IEOs, only Ampleforth's IEO took place on Bitfinex, while the others took place on Binance. Bitfinex only started launching IEOs last month, while Binance started in February 2019. 
The first IEO was BitTorrent's, in February on Binance, and it was also the one with the biggest hard cap: 7.2 million dollars. 
The only one with a hard cap of less than 5 million was Celer's, with 4 million. The IEOs carried out on Binance used Binance Coin (BNB) tokens, and in one case also Tronix (TRX) tokens. The only one to have used bitcoin is that of Ampleforth, held on Bitfinex. 
Ampleforth also set an absolute record in terms of speed: the hard cap of $5.6 million was reached in just 11 seconds, compared to 11 minutes for Fetch.AI, 14 minutes for BitTorrent and 17 minutes for Celer. 
Ampleforth was launched as an ERC-20 token, on the Ethereum blockchain, same as Fetch.AI, Celer and Matic, while Harmony and Elrond were launched as a BEP-2 token on Binance Chain. BitTorrent was the only TRC10 token on the Tron blockchain. 
The IEO with the most individual caps was BitTorrent, with $20,000, followed by Ampleforth with $5,684. Other IEOs with individual caps above $1,000 were Fetch.AI ($3,000) and Celer ($1,500). 
There are many differences between the IEO on Bitfinex and those on Binance, starting with the incredible rapidity with which $5.6 million were raised in BTC in just 11 seconds for Ampleforth's IEO. The only reason why out of these six IEOs as many as five took place on Binance seems to be because Binance launched IEOs a few months before Bitfinex.