StellarX is a decentralised exchange with zero fees. The exchange was designed by Interstellar and relies on Stellar's blockchain, which guarantees zero fees. To be precise, it is not a real exchange, but a "public marketplace".
The difference with traditional exchanges is that when an order is executed, the seller sends the tokens directly from their wallet to that of the buyer. The transfers are very rapid. Everything that happens on StellarX is on-chain.
The absence of fees is a fundamental advantage over DEXs that rely on Ethereum, such as IDEX or EtherDelta (whose transactions take place using PoW and GAS). Conversely, Stellar's consensus requires neither work nor stake in order to secure transactions.
StellarX, unique conditions
According to the co-founder of Ethereum, Vitalik Buterin, DEXs are the future. The grudge against centralised exchanges is the result of a long list of hacker attacks and subsequent theft of capital that took place over the years. However, it is true that decentralised exchanges are also susceptible to attack and do not guarantee absolute security.
DEXs are becoming more and more popular. According to a recent report published by Totle on the Medium platform, transaction volumes on decentralised exchanges based on Ethereum have tripled since the beginning of 2019.
Simple to use and intuitive
After registering on StellarX the user is asked to associate a key to the account. This can be done in 3 different ways:
If the first option is chosen, the exchange provides a recovery phrase of 15 words.
Orders are executed on the Stellar network. There are minimal fees in Lumens (XLM), but they are so low that StellarX refunds them to each user at the end of each month.
The platform is actually a GUI to use Stellar's open marketplace. The interface is very well done and truly simple to use.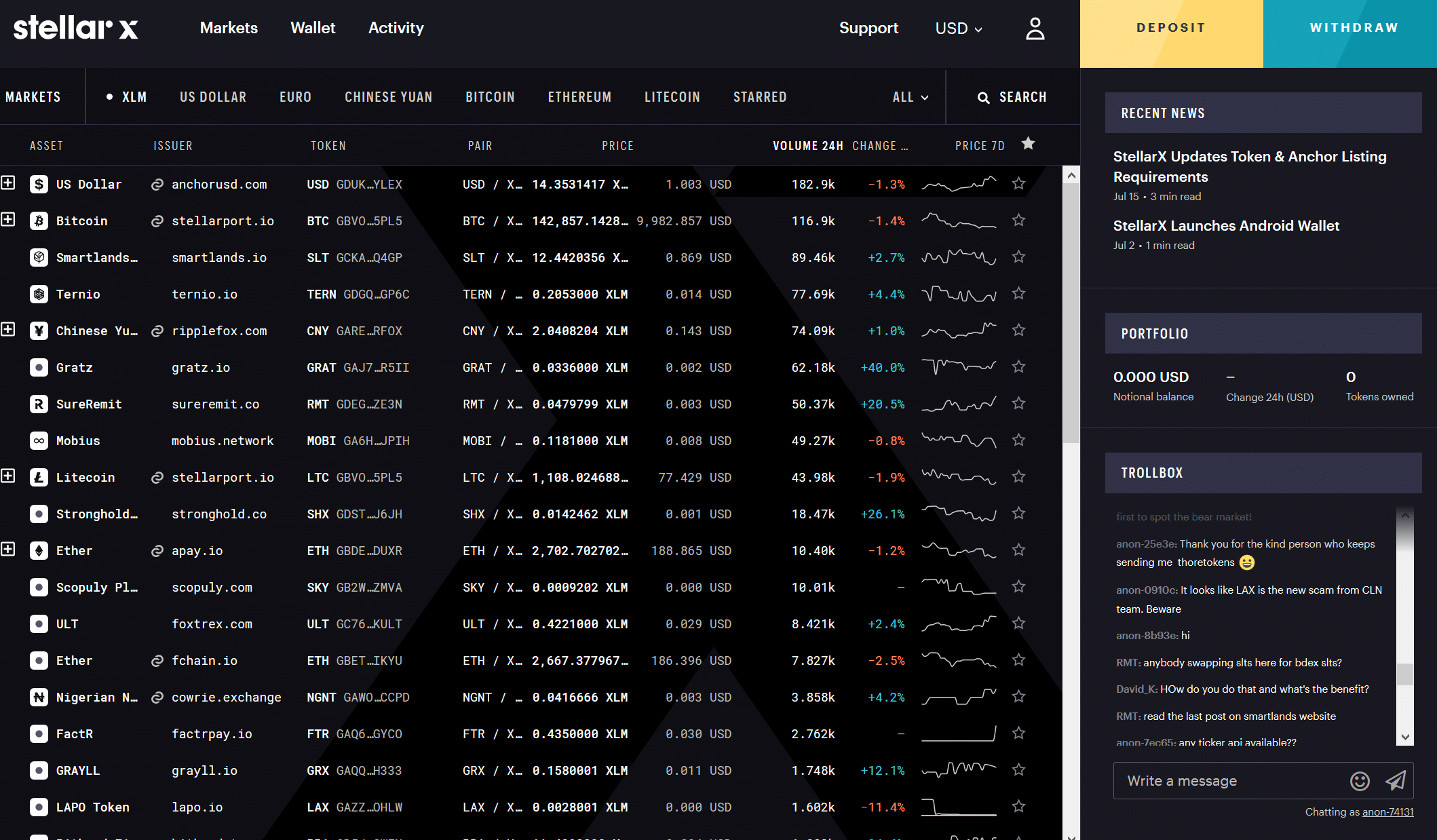 Deposits and withdrawals can be completed using the respective entries at the top of the interface. It is possible to deposit dollars, XLM or other cryptocurrencies. Changelly is used as an intermediary in the event of depositing cryptocurrencies other than XLM with a 0.5% fee on the exchange rate.
The name was carefully chosen by Christian Rudder. The X is not meant to be an abbreviation of exchange but refers to algebra where it can mean, in his own words, "Anything. Anyone. Anywhere".
All assets that can be purchased, apart from those based on XLM, are tethered. This means that third-party tokens are bought which guarantee the counterparty of the asset being purchased.
The exchange clearly says which assets are tethered and which are not, transparency is a focal point. When exchanging a tethered asset, it is necessary to do so on the provider's website and not on StellarX.
This is actually an easily bypassable problem: in order to move capital, it is sufficient to convert it to XLM and send the tokens directly from StellarX to a traditional exchange.
StellarX has also recently launched its mobile wallet for Android and iOS.