Longhash recently published a report in which they analysed several blockchain and crypto projects from 2012 to the present, as well as the cryptocurrencies linked to them, discovering that a good percentage of them are now dead.
From 2012 to the present day, more than 60% of the projects have died for various reasons and, understandably, the peak of "deaths" occurred in 2017, the year in which there was a full-fledged rally involving the launch of various ICOs (Initial Coin Offerings), which included a large number of scams.
As a result, most of the projects have been abandoned or the tokens have had a low volume, almost equal to 0. A good part of them, in fact, nearly 30%, turned out to be scams, while about 4% failed to collect funds with the ICO.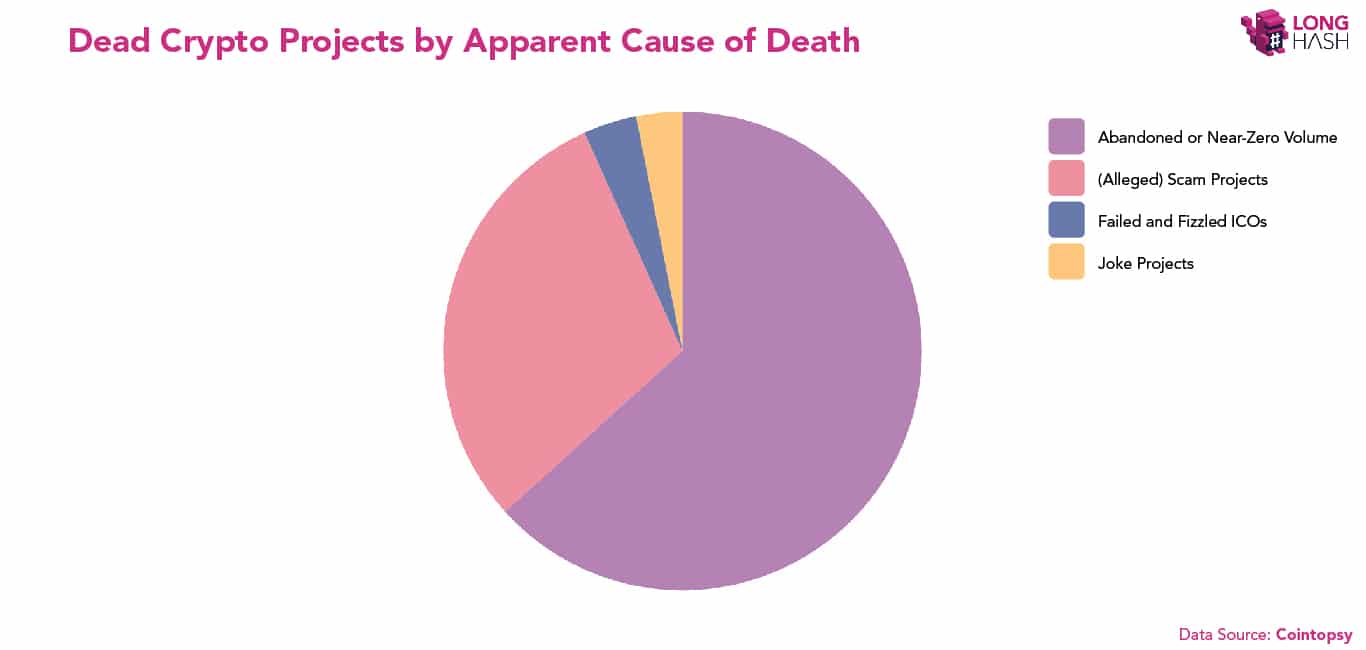 From the relevant graphs it can be seen that in the crypto world, especially in 2017, there was a real inflation of useless crypto projects. In 2019 the situation has not improved much, although many investors are much more attentive to false promises.
The ICOs, as we know, have turned into IEOs (Initial Exchange Offerings) although, it's important to say, the fact that they are launched through an exchange does not always guarantee their credibility. 
In addition to crypto projects that are now dead, or those that turned out to be scams, there are also many exchanges that have proved to be useless: having low trading volumes or with teams that have run away with the money, which was probably the case with QuadrigaCX.
Over the years, in fact, there have been several episodes of this kind, such as the case of Mt. Gox.
In short, despite the fact that several years have passed since the birth of bitcoin and ICOs, the saying "Don't Trust, Verify" is still valid, a famous motto in the crypto world which has been revisited and modified from the words of President Ronald Reagan.