As explained in a recent post published by Coinmonks, the order to which we are accustomed to seeing crypto coins and tokens when using the popular CoinMarketCap website should be re-evaluated: it shouldn't be the market capitalisation that dictates the ranking, but the number of nodes.
According to this new order by number of nodes, this would become the list of the first 10 crypto: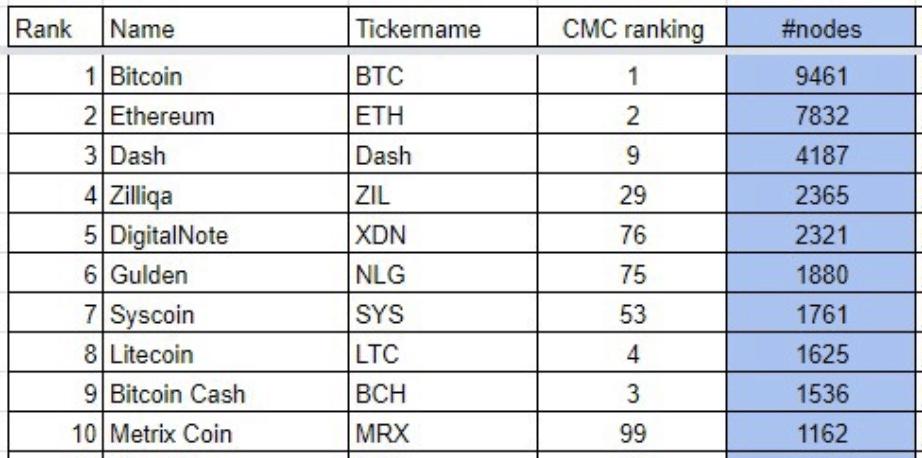 Note: The ranking takes as reference a comparison with CoinMarketCap that includes only coins and more specifically only mineable ones.
The numbers, therefore, are very different, in particular from third place onwards: bitcoin (BTC), in fact, confirms its leadership with 9461 nodes, demonstrating that once again it is the most decentralised project in the crypto world. 
In second place there is Ethereum that, with its 7832 nodes, achieves a high degree of decentralisation, but this will not be the case for long as it is transitioning from PoW (Proof of Work) to PoS (Proof of Stake) and hence the nodes could decrease a lot.
In third place, there is Dash that, with its 4187 nodes, outperforms several cryptocurrencies such as Litecoin (LTC), which has only 1625 nodes, and also Bitcoin Cash (BCH), which has 1536 nodes.
Immediately after Dash, there is Zilliqa with 2365 nodes, which climbs so many positions compared to the 87th position occupied on CoinMarketCap according to the ranking for capitalisation.
DigitalNote (XDN) is also showing remarkable results: from position 517 on CMC it reaches the 5th position; in the ranking for the number of nodes, there is also Gulden (NLG) who goes from position 496 to 6th.
Finally there is Syscoin (SYS) at position 7th, from position 197 of CMC, and finally, a real qualitative leap is made by Metrix Coin (MRX) that goes from position 632 to 10th.
Interestingly, among the projects based on privacy or that obscure information, it is difficult to find and identify a precise number of nodes: for example projects such as Monero (XMR) and Beam, but also Cardano (ADA) and Ethereum Classic (ETC).
In conclusion, it is clear that a different indicator provides completely different results, highlighting a different view from what we are used to and also allowing us to see what the rate of decentralisation of projects is and not just evaluate them on the basis of capitalisation or prices.
Moreover, this classification by number of nodes also allows us to understand the security and robustness of projects that may be attacked.