A transaction of just under 3 billion USDT, to be precise 2,816,060,000, was made to an address belonging to the Huobi exchange:
As was promptly reported by the Whale Alert service, the transaction involved two accounts. One of these, the recipient, is none other than the Huobi exchange, while the other is unknown. The value of the transaction is just under $3 billion, as Tether (USDT) is a stablecoin pegged to the dollar value.
In addition, the transaction consumed only BTC 0.000114000 since OMNI's blockchain was used, which is a really ridiculous figure for such an amount.
This transaction was hiding something strange.
Considering that everything in the blockchain world is traced and inevitably transparent, it is possible to know a lot of exact details, and in this case, the information is provided by the Tether (USDT) protocol. As a result of its total transparency, it is known that currently just over $6 billion in Tether (USDT) have been issued, so already at first glance, such a transfer would be impossible because it would mean that only one account would hold half of all Tethers in circulation.
Another detail that the experts have found is related to the blockchain involved, that of OMNI. It is well known that there are only 1.5 billion USDT on OMNI, which is less than half of those involved in the transaction.
So how was it possible to move such a figure?
Simple, it has not happened. Nobody can fake the blockchain, not even a well made smart contract, and indeed the transaction was immediately rejected for lack of funds on the part of the sender who has just over 102 thousand Tether: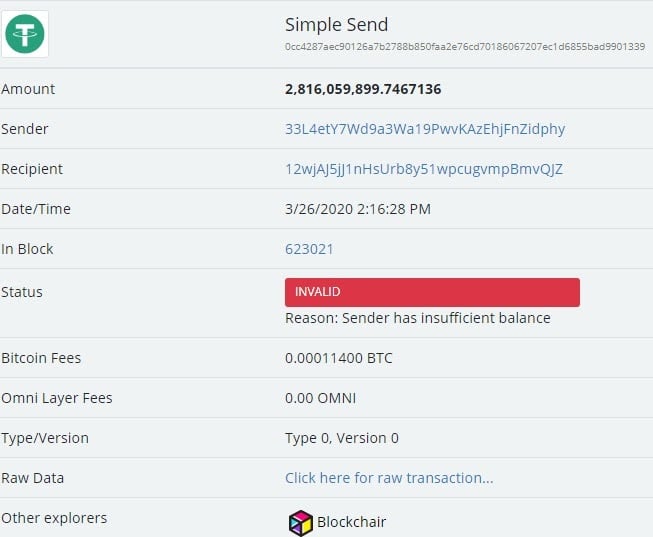 Hence, as can be seen, the system didn't suffer any problem but it was just a human error where, most likely, a wrong amount was entered when carrying out the transaction.