Moon Bitcoin is a faucet that allows earning BTC, Bitcoin Cash (BCH), Dogecoin (DOGE), Litecoin (LTC) and Dash.
This faucet is actually a product of the Coinpot.co website, a platform to which it is necessary to connect a wallet in order to receive cryptocurrencies automatically to then withdraw them from there.

It is interesting to note that it is also possible to convert the various crypto assets between each other without having to make different withdrawals, sending the funds to a proprietary wallet.
It is necessary to register to this platform in order to be able to connect other websites and faucets, and these are:
Moon Bitcoin for the

BTC

cryptocurrency;

Moon Doge, concerning the DOGE crypto;

Moon Litecoin as far as LTC is concerned;

Moon Dash with regard to the DASH crypto;

Moon Bitcoin Cash, as far as BCH crypto is concerned.
On all websites the interface is identical: there's a registration email linked to Coinpot, a timer that indicates the time passed since the last time something was earned and a counter of the various cryptocurrencies that have accumulated over time.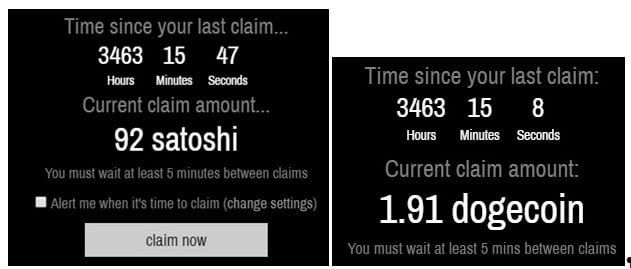 Once the minimum threshold has been earned, which varies according to the chosen crypto, it will be possible to withdraw and within 48 hours the transfer will take place on the wallet without even paying the transaction fees.
Such a service is useful especially for those who are not familiar with the different cryptocurrencies and want to earn small amounts.
It's also possible to check the various Moon Bitcoin payouts and verify that the project is not a scam since the blockchain allows tracking all the movements. Here is an example of all the payouts in bitcoin.