Coinbase's market cap is higher than that of many banks around the world.
A few days ago Tom Robinson, CEO of Elliptic, a company that deals with blockchain analysis, shared an interesting graph on his LinkedIn profile.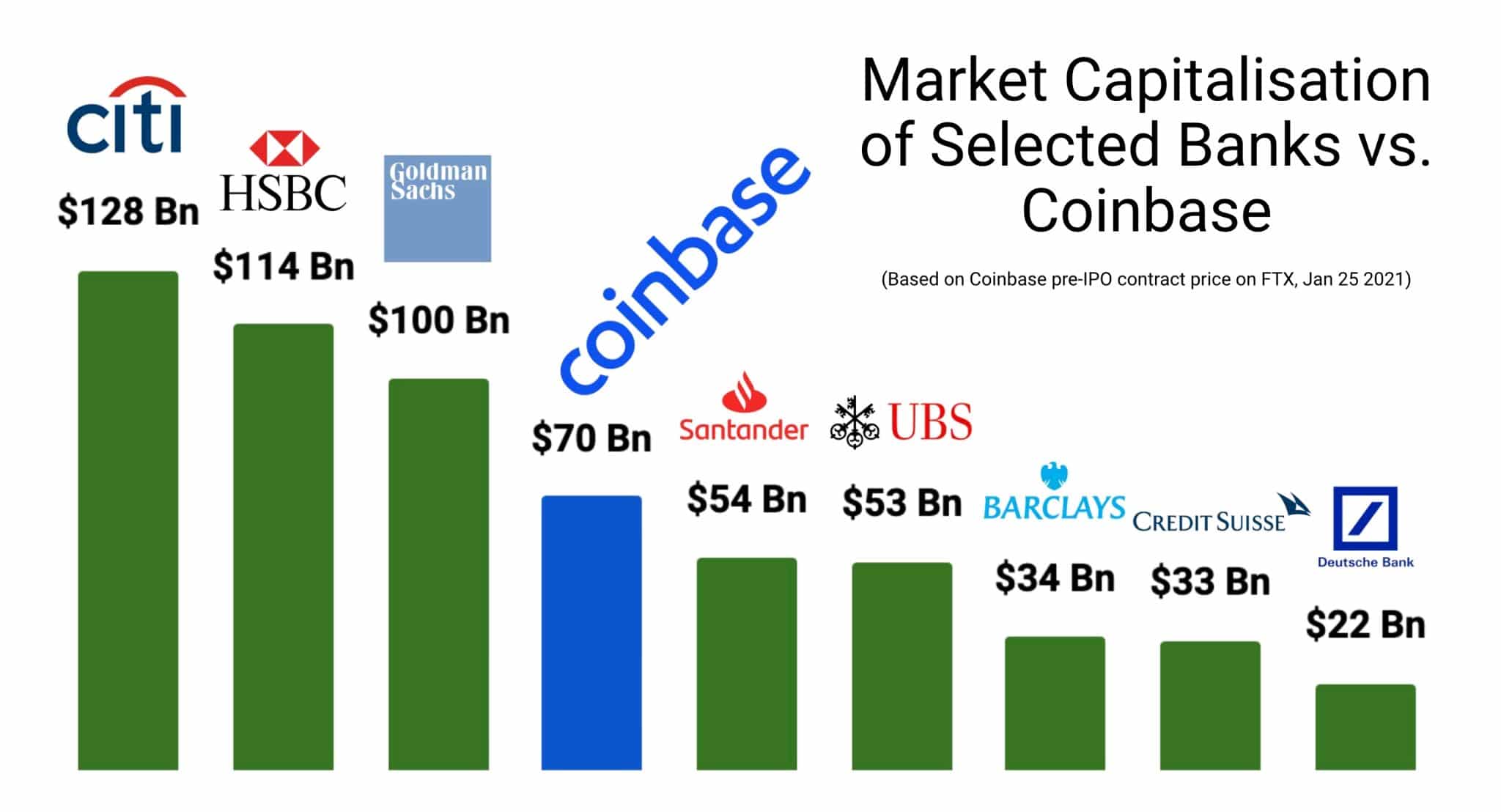 It shows that Coinbase has a higher market capitalization (according to data from January 2021) than the Spanish bank Santander, the British Barclays, the Swiss Credit Suisse and the German Deutsche Bank.
Coinbase, a market cap of $70 billion
In fact, Coinbase has a market cap of $70 billion – almost as high as that of Goldman Sachs – which explains why it has become so attractive for them to launch an IPO. 
In December 2020, the US exchange filed paperwork with the SEC in order to launch its Initial Public Offering. It will be interesting to see how a crypto exchange launched only in 2012 can almost beat Goldman Sachs, a traditional bank founded in 1869.
Coinbase's problems
Despite its attractive market cap, the platform is not lacking in bugs.
In fact, on practically all of its tweets – even the one about the IPO – one can read dozens of comments from users who complain about not being able to log in or having their accounts blocked.
In addition, Coinbase often goes down when the price of Bitcoin reaches record highs. It is for these reasons that the team has stated that they will be revamping the platform soon, in order to fix these technological glitches that can cause users to lose a lot of money in terms of not being able to sell and buy crypto at certain times.
Coinbase and FinCEN
Recently, Coinbase made it known that it had sent a letter to FinCEN asking them to put the crypto regulatory process on hold, at least temporarily, as everything could change under the administration of new President Joe Biden.