Monero's 2021 has been routinely what XMR holders expect from the world's oldest privacy coin. Overall, XMR price has maintained steady growth so far this year and over the last 12 months is up 405%. 
Over the last week, however, XMR price took a step backward and has followed the macro trend. The macro is led by Bitcoin primarily and BTC is currently in its second deepest retrace of what is still a bull market by any technical observation.
The price of Monero (XMR)
The 24 hour XMR LOW $328.37 and HIGH $358.84. XMR closed Tuesday's daily candle at $341.87.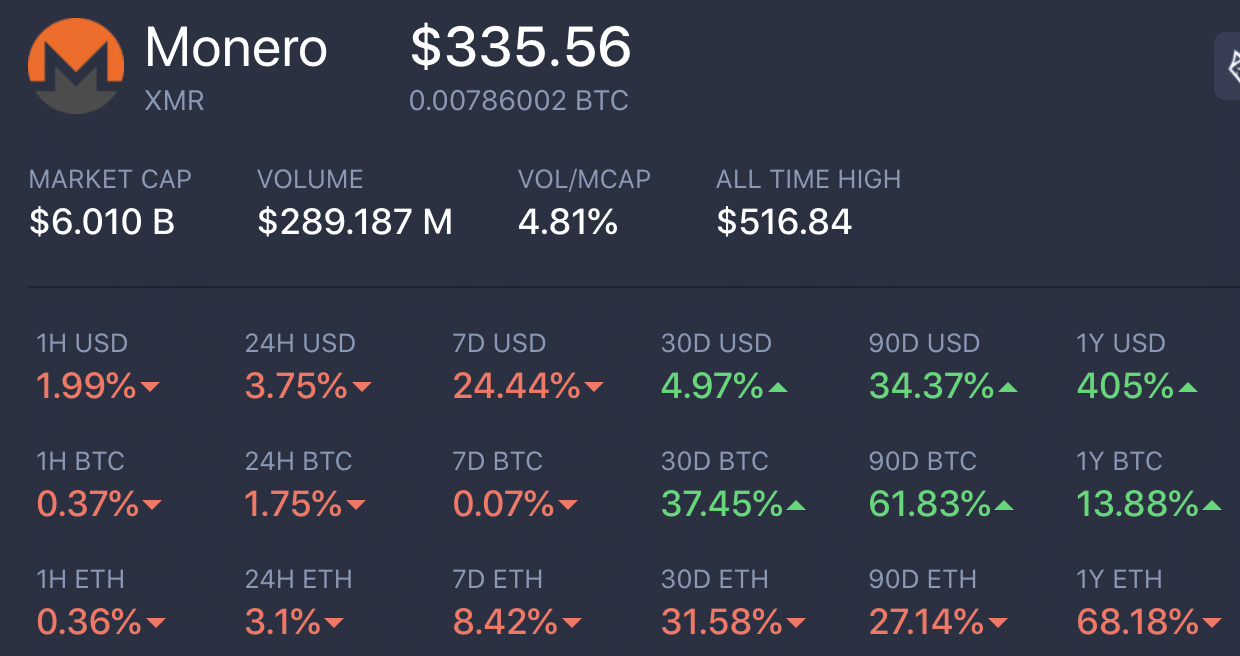 Despite the barrier to entry that privacy coins face with the acquisition of exchange listings, XMR has continued with hundreds of millions in daily volume during this bull market. 
At the time of writing, XMR has done $289.187 million in volume for the last 24 hours and posts a $6.1 billion market capitalization. 
Monero is +28.2% for the last 90 days at the time of writing and has decreased 29.89% from its peak [$484.96] of this bull market thus far. 
The XMR all-time high $542.33 is from the previous bull market of 2017. Monero will have to increase 37% from its current price to attempt to break the previous ATH; further, this would be the last overhead resistance on the chart before price discovery. 
With so much uncertainty around the world – from rampant money printing to geopolitical conflicts in many regions, the crypto anarchist community has put a lot of stock in it's oldest privacy coin. 
Monero Adoption 
Monero launched back in 2014 and while there are other privacy coins with arguably much better technology today, XMR has stayed the poster child of confidential transactions to this point in the blockchain sector. 
It isn't just crypto anarchists that are finding Monero useful though, there are now 973 merchants accepting XMR, that's 800 plus more merchants accepting XMR today than just 3 years ago. 
XMR Competition
With much better technology and far more developers working on said tech today, it will be interesting to see how XMR holds up against other projects moving forward over this decade. 
If the time ever comes where privacy coins need to scale to manage excessive throughput, we could see a mimblewimble code based project emerge as a real challenger. There are already a host of competitors utilizing the tech given to us by a pseudonymous creator known as, Tom Elvis Jedusor, which was Voldemort's real name in the French Harry Potter. 
It's currently difficult to argue that Monero doesn't have a stranglehold on privacy coins by market cap. The second ranked privacy coin by market cap is semi-private Dash, Dash's market cap is nearly half of XMR's market cap at $3.1 billion.