Ethereum [+22.5%] was a big winner on Monday in a market that finally saw a reversal to the upside.
After what seemed like weeks of crypto capitulation across the entire market, Bitcoin [+11.69%] led the way for Ethereum and other alt-coins to finally carry on and continue their patterns.
Ethereum, the market rebounds
Ethereum is +1,174% for the last 12 months at the time of writing and has been the most consistent performer in the Top 10 since breaking its former ATH of $1,428.
It seems like years ago but ETH broke its 2018 former high on January 19th of this year.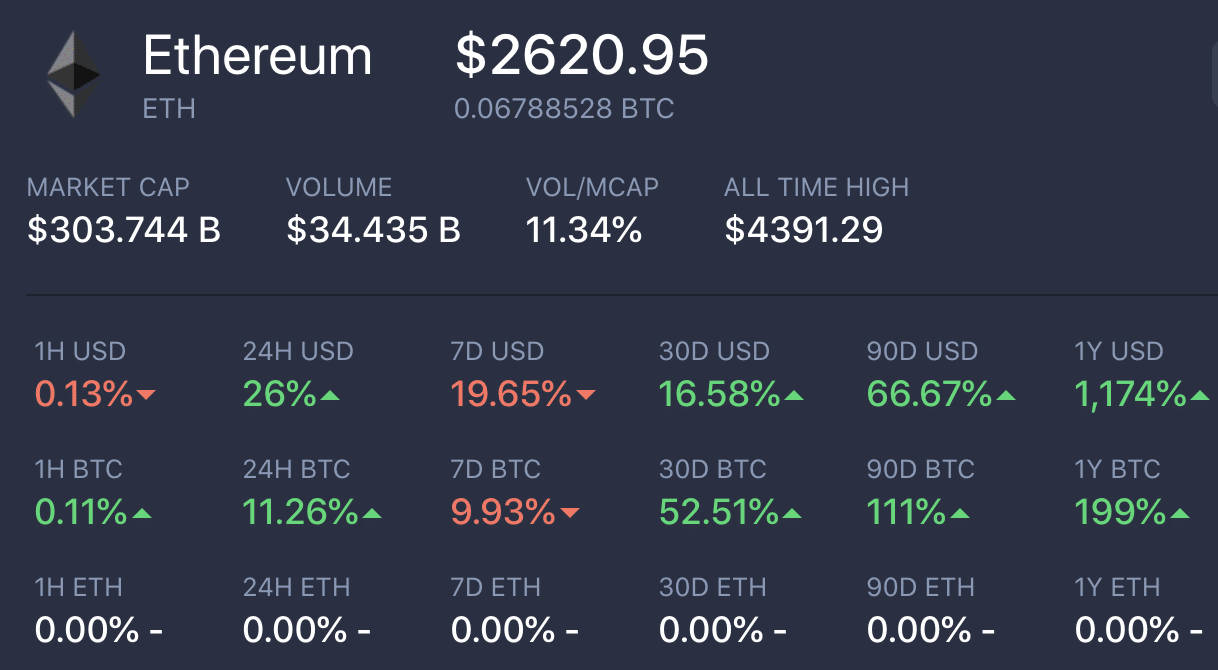 Ethereum has gone on an absolute rollercoaster ride this month, peaking just under $4,400 and then reversing to sub $2,000 before pushing back to $2,620.95 at the time of writing.
Ethereum accounts for 17.6% of all money currently in the cryptocurrency market and has outperformed BTC by 847% over the last 12 months.
Ethereum closed Monday's daily candle @ $2,679.
Maker posting nice rally
Maker painted green Japanese candlestick after green Japanese candlestick on Monday.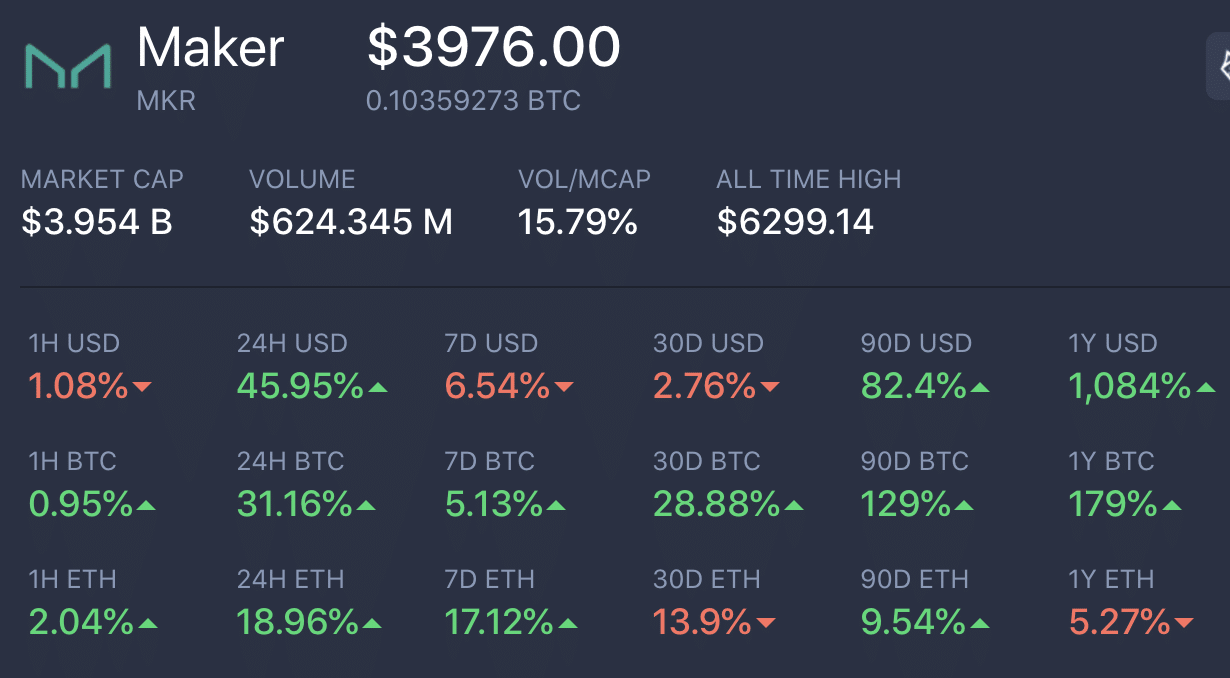 After peaking at $6,292 just 22 days ago, MAKER is -35.1% from the top at the time of writing.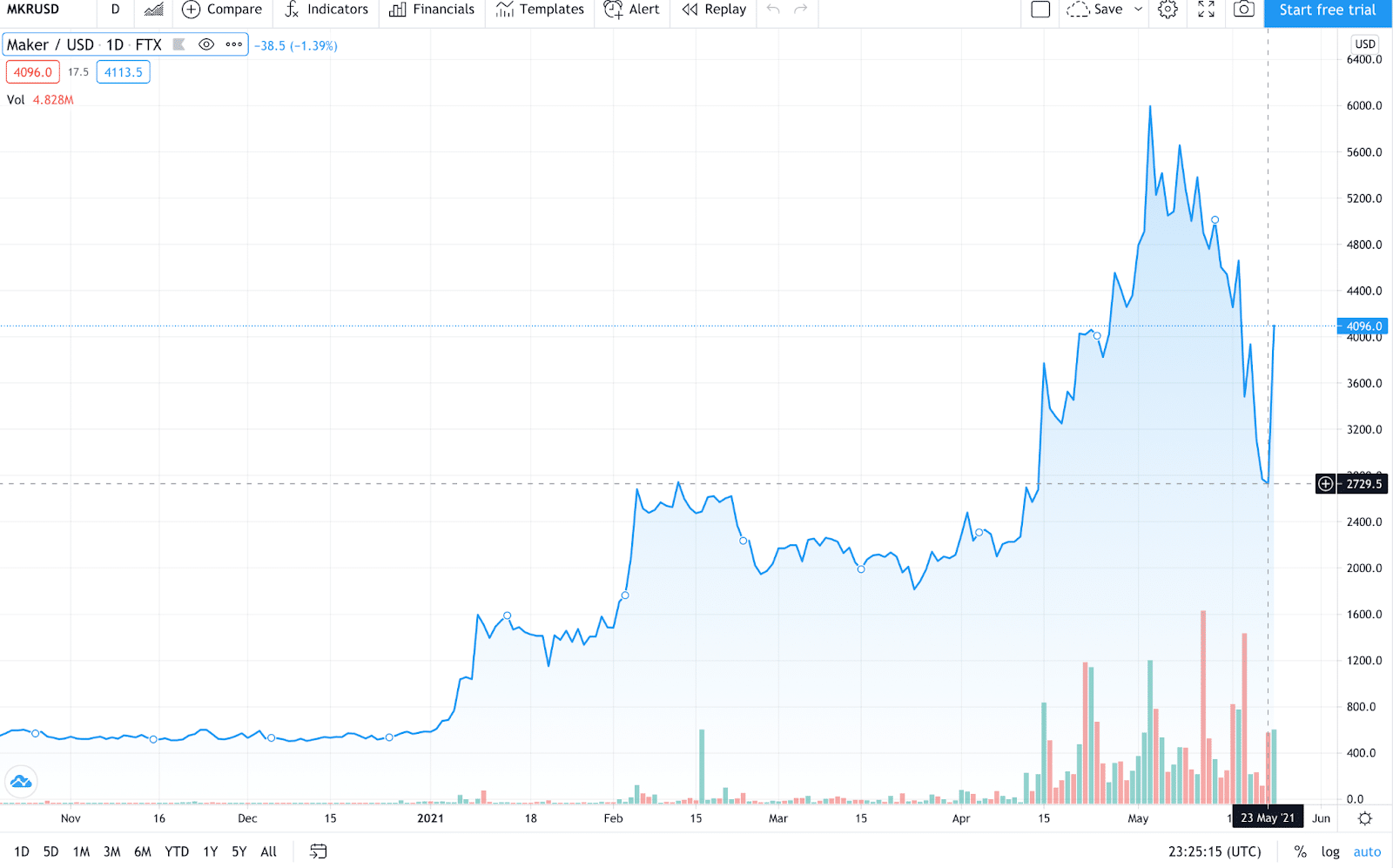 MKR closed Monday's candle at $4,160. It appears MKR could be taking a quick elevator ride back up to $5k after Tuesday's candle began with immediate buying pressure.
The aggregate market outlook
The aggregate crypto market cap closed Monday's price action +18.8% and pushed back over $1.71 trillion. The total market cap also managed to close with a bullish engulfing candle and is giving bulls much needed relief after many consecutive days of downward pressure on the crypto market.
Many on crypto twitter were tweeting about how random it seems that such positive news appeared on Monday across the market after days of negative publicity from pundits and certain celebrity figures.
Even hedge fund billionaire investor, Ray Dalio, who had been a long time Bitcoin bear publicly stated for the first time he now owns Bitcoin.
Dalio, 67, with a networth of greater than $20 billion has gone on the record multiple times about Bitcoin with an unfavorable outlook. Only a few months back, in March, Dalio told YaHoo Finance:
"There's a good probability governments outlaw Bitcoin".
It seems somehow over the last 2 months Mr. Dalio became aware of the game theoretical aspects of Bitcoin that are baked into the protocol and the decentralized nature of the network.