Bitcoin price was up as much as 15% on Monday and is back near the top of its range at $40k at the time of writing; BTC spent all of Monday's daily candle in green figures. 
After a multi-month selloff that lasted around 100 days in total, BTC's momentum has shifted bullishly and is +$4,513 for the last 24 hours and +$8,057 for the last 7 days at the time of writing.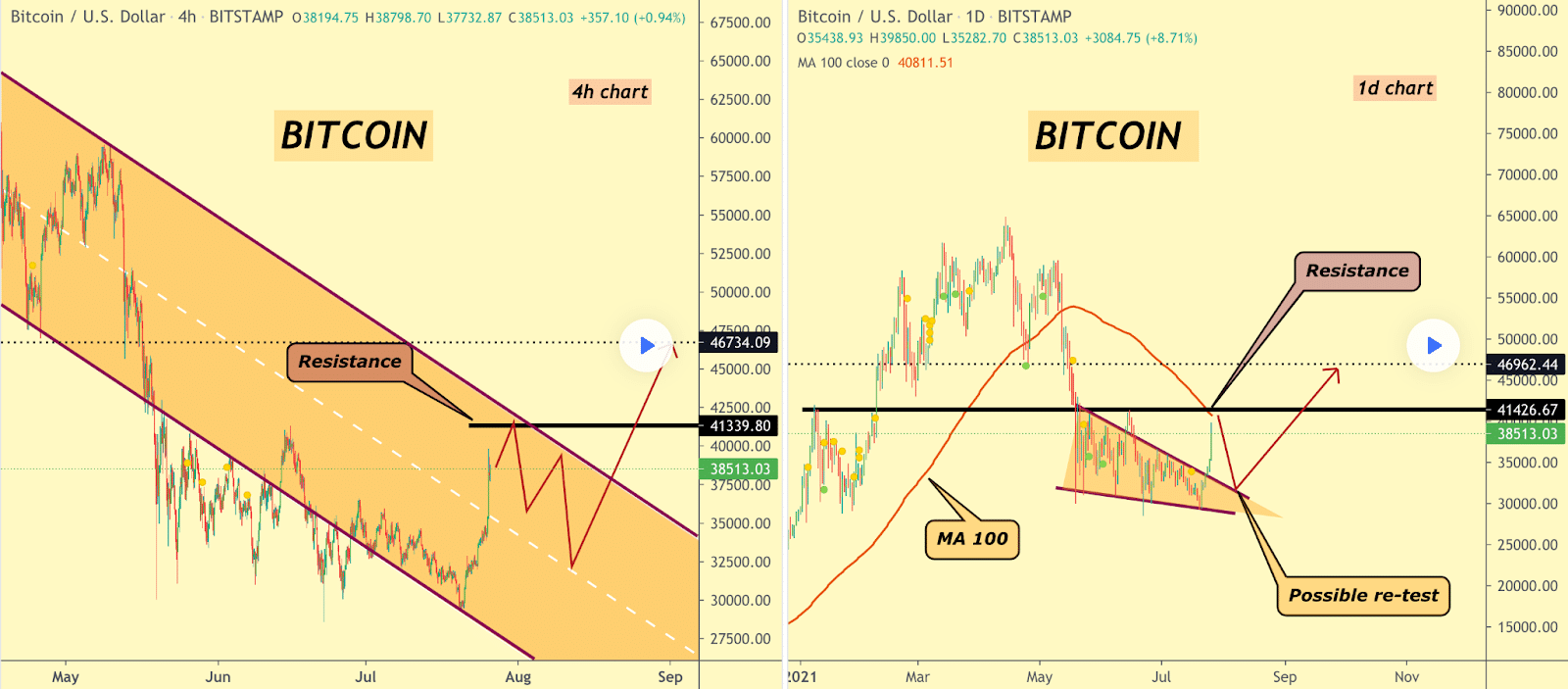 The charts below from RocketBomb show how important the $40k-$41k level is for bitcoin at the top of its current range on the 4HR chart and the 1D timescale.
Although bitcoin's price was greater than $39k twice during Monday's daily candle bears pushed the price beneath $38k and into the lower $37k's early on during the day's final 4 hour candle. 
If bitcoin fails to confirm a breakout above $40k then the odds of a retest of $35k and then $32k on each chart grow increasingly probabilistic. 
Bitcoin's 24 hour range is $35,619-$40,595 and the 7 day range is $29,599-$40,595. BTC's 30 day average price is $33,603. 
Monday's daily close for BTC was $37,296 for a 6th consecutive day in green figures. Monday was the highest daily close on bitcoin since June 17th.
Polkadot (DOT) price
Polkadot's pivot in price came on Sunday and has really started to turn to the upside over the last 24 hours. DOT's +$1.40 for the last day and +$3.12 for the last 7 days at the time of writing. 
Dr. Gavin Wood gave an update on parachains on Polkadot and how things are progressing since their launch on Kusama. 
Dr. Wood said recently 'we're just starting out with parachains on Kusama at the moment but of course they'll make their way to Polkadot once we're confident things are stable" in a recent video recording published on YouTube. 
You can see the entire update from Dr. Wood recorded for a Shanghai audience and uploaded on July 24th by Polkaworld here. 
It'll be interesting to see how the market reacts to the news and the launch of parachains on Polkadot when they're officially rolled out on mainnet. The price of Kusama is orders of magnitude higher but the tokenomics are vastly different as well. 
While the world waits for parachains on Polkadot, where's DOT's price heading in the short term?
CoinGape shows us above the next bullish target is $17 – with a close of $14.45 on a significant timescale that becomes increasingly likely. 
A contrary bearish outlook would be one where DOT's price can't hold the major resistance zone of $12.75 and again tests monthly lows. 
DOT's 24 hour range is $13.88-$15.25 and the 7 day range is $10.62-$15.25. Polkadot's 30 day average price is $14.34.
Polkadot's [+1.3%] daily candle closed on Monday worth $13.92 for a 6th day in a row in green figures.