Bitcoin analysis
The bitcoin price took a few steps backward over the weekend but only pulled back 5.39% cumulatively over Saturday and Sunday's daily candles.
Bitcoin's total market capitalization is just under ¾ of a trillion dollars and accounts for 45.2% of the total cryptocurrency market capitalization at the time of writing.
The chart above from MarcPMarkets shows bitcoin bumping up against an old resistance at $42k on the daily timescale. BTC sold off during the end of the day on Sunday and fell below $40k before heading into the daily / weekly close.
There's still a chance that bitcoin's in the same trading range it's been in for months between $30k-$41k – we don't really know for sure until $42k is left behind for good whether or not bulls are in full control again.
If $42k is breached to the upside then the next target is $46,843 and it might not take long to see $50k again on charts. If the bears are able to win a round and push the price beneath $40k again then the support resistance below that is $38k.
The Fear and Greed Index that measures bitcoin sentiment once per day is reading 48 and -12 from yesterday's reading.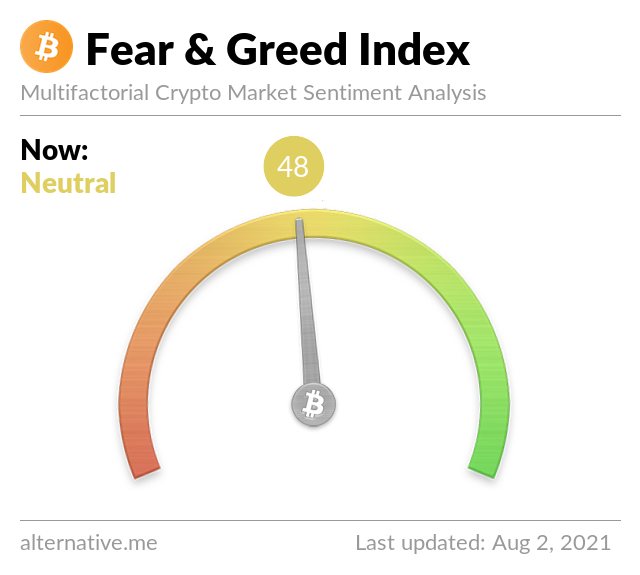 Bitcoin's 24 hour range is $39,493-$42,532 and the 7 day range is $36,203-$42,628. The 30 day average price of BTC is $34,799.
Bitcoin closed the first daily candle of August -3.59% and in red figures for the second consecutive day worth $39,922.
Ethereum analysis
Ether shattered $2,500 and $3,000 is the next big target overhead for bulls in the interim.
The chart below from VincePrince shows just how strong Ether is performing and the potential for a return to $3k could be setting up.
If ETH breaks the nearest overhead resistance of $2,643 the next stop may be $3k.
A contrary bearish outlook could be triggered if ETH fails to hold $2,500 and somehow falls out of its current range of $2,400-$2,600.
Ether's 24 hour range is $2,527-$2,696 and the 7 day range is $2,157-$2,696. ETH's 30 day average price is $2,155.
Ether had a daily candle close of $2,554 and was in green figures for the 4th consecutive day and 11 of the last 12 days.