Bitcoin slips back to $46,000, with the price registering a slight loss of 1.2% today over the 24 hours. 
The rally of these days seems to have taken a break. Those waiting for bitcoin to violate the resistance of $48,000 and then get back to $50,000 will have to wait a little longer. 
Bitcoin price analysis
According to an analysis published on Tradingview, quotations are testing the resistance of $47,500. If this level is exceeded, stretches towards $51,600 would be triggered. So BTC would return above the psychological threshold of 50,000 USD. 
According to Santiment, traders are pretty optimistic.
😌 #Bitcoin has settled into a $45k to $48k range that has encouraged traders to #FOMO in with anticipation of another run toward the April #AllTimeHigh. Our data indicates optimism is up, but not euphoric in a way that leads to imminent $BTC corrections. https://t.co/G6elk42eSx pic.twitter.com/7ZrIzoZPF5

— Santiment (@santimentfeed) August 16, 2021
According to this chart, the general feeling is that bitcoin is heading towards a new ATH, going beyond the $65,000 marked in April. 
For Santiment, however, there is optimism, but not euphoria, which could lead to a correction in bitcoin's trend. That is a bit of what is happening as the price rose to $48,000 and then retraced and settled between $46,000 and $47,000. 
The fear and greed index is also stable at 72, a sign of greed: investors at this time are projected to buy.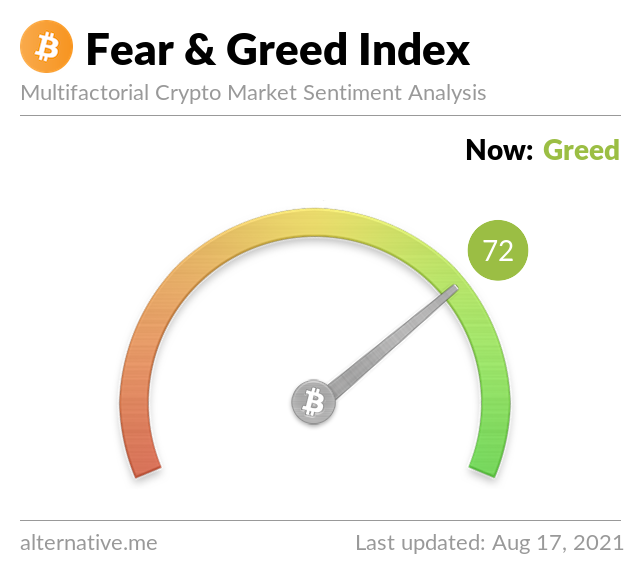 For Paolo Ardoino, CTO of Bitfinex, the market is in a bullish phase, while institutional investors are putting their full weight on bitcoin:
"Bullish sentiment seems to be driving cryptocurrency markets with Solana and Matic chalking up impressive gains. We may be seeing a reawakening of animal spirits among speculative investors with decentralized finance (DeFi) and the market for NFTs both resurgent. While volumes remain relatively subdued, a lot of the profits that have been made are filtering back into the ecosystem, causing a continued boom in retail markets for altcoins. It is also important to note a backdrop of sustained institutional investment in the space, a trend that will only further consolidate if bitcoin returns to the highs that it reached earlier this year."