Renowned mixed martial arts organization UFC and Dapper Labs, creators of NBA Top Shot and NFL ALL DA, announced the launch of 'UFC Strike': the new NFT experience and collection on Flow Blockchain for all MMA fans. 
UFC and Dapper Labs launch 'UFC Strike' NFT collection
UFC and Dapper Labs have announced UFC Strike: the all-new Non-Fungible Token collectible experience, available to fans starting Sunday, January 23. Here's the announcement on the official UFC Strike channel. 
🚨WE ARE LIVE🚨
Jump in and grab your @UFCStrikeNFT Packs Now!
👉 https://t.co/GbicCmIMkA pic.twitter.com/WtS1pI498A

— UFC Strike (@UFCStrikeNFT) January 23, 2022
"We're live! Jump in and get your @UFCStrikeNFT Packs now!"
The launch includes a distribution of 200,000 total UFC Strike packs, including an initial 100,000 "Fully Loaded" packs, which consist of three NFT Moments capturing incredible finishes and incredible striking and grappling performances from UFC fighters. 
Among the many, names like Francis Ngannou, Amanda Nunes, Kamaru Usman, Rose Namajunas, Derrick Lewis, and Justin Gaethje pop up. 
With robust audio and video content, each UFC Strike Moment NFT is designed to capture, memorize and celebrate a specific moment in UFC history.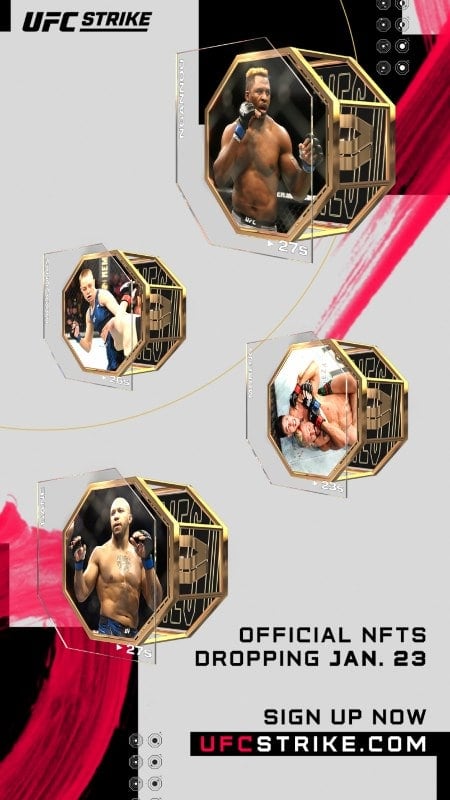 UFC in partnership with Dapper Labs and the launch of the second NFT
Apparently, UFC and Dapper Labs' partnership is also ready to launch the second series of NFT. 
On that note, Tracey Bleczinski, Senior Vice President of Global Consumer Products at UFC, said: 
"Dapper Labs is an innovator in this field, creating an industry that didn't exist a few years ago. Their vision for the potential of these products is the reason UFC chose Dapper Labs as its first NFT partner. We're thrilled to finally be able to offer these amazing digital collectibles to enrich the UFC experience for our fans."
To access the initial open drop, fans simply need to visit ufcstrike.com, where they can join the queue for a chance to purchase a pack (while supplies last) for $50.00.
Not only that, the second launch of UFC Strike's "Fully Loaded" series of NFT packs priced at $50.00 will be available to fans beginning Monday, January 31, 2022. 
Flow Blockchain (FLOW) 
Dapper Labs is the Flow Blockchain (FLOW) creator, which is slowly taking over all sports. 
Not only that, last September, Dapper Labs had also partnered with Google to support Flow Blockchain and help it scale through Google Cloud. 
The search engine giant has called Dapper Labs as the leader to power the next-generation WEB 3.0, supercharged by blockchain. 
FLOW, its native token, is among the top 60 tokens by total market capitalization, with a market cap of nearly $1.5 billion. Over the past month, FLOW, like all cryptocurrencies, has followed the bearish trend, falling from a price of $9 to the current $4.69.