Buying airline tickets easily with crypto is now a reality: through Binance's partnership with Crypto Air Tickets it will be possible to buy airline tickets through Binance Pay, a payment platform created by Binance, paying directly in Binance Coin (BNB).
JUST IN: #Binance partners with Crypto Air Tickets to allow users to purchase airplane tickets via Binance Pay.

— Watcher.Guru (@WatcherGuru) October 10, 2022
This was actually already possible through Travala, a travel platform similar to Booking.com, but which allows paying in crypto, incidentally with Binance among the investors.
BNB and the Binance coin
BNB is Binance's native cryptocurrency which powers the BNB chain. It is one of the most highly capitalized crypto assets, which can be spent on trading transactions on par with other cryptocurrencies and can be used to purchase travel and now specifically, airline tickets directly.
The businesses where to spend BNB are outlined on the Binance website, which leads directly back to the "Travel" section for one-click booking of airline tickets, as illustrated here: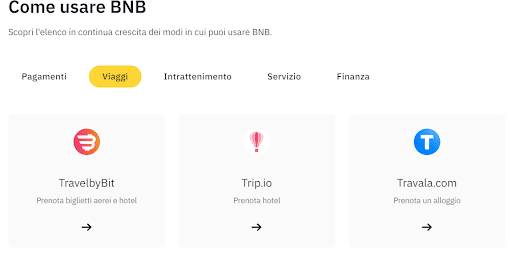 The trend of booking travel in crypto will also assert itself in 2023 with airline giant Vueling through its already declared partnership with BitPay. Indeed, Vueling will be the first low-cost airline in Europe to accept crypto payments through Universal Air Travel Plan (UATP) technology, the global payment network for the airline industry. 
About 3 months ago, Emirates Airline also declared its willingness to add Bitcoin as an official payment method:
Adel Ahmed Al-Redha, the company's Chief Operating Officer (COO), wants to ensure that the airline is:
"aligned with the UAE's vision for the digital economy."
What is BNB?
Binance Coin (BNB) is an ERC20 token initially issued on the Ethereum blockchain by the Binance exchange, through which a transaction fee can be paid directly on the Binance exchange.
Later, BNB morphed into a full-fledged cryptocurrency with its own chain, the Binance Chain.
As is also true of other cryptocurrencies, BNB can be used for a wide variety of purposes besides normal trading:
BNB can be used to pay for transactions on the Binance exchange at a significant discount to users, providing a significant cost advantage over competitors. 

In addition, it can be used for credit card payments: the BNB token can be used as a form of payment on many online sites or virtual gift card payments.

Many merchants allow customers to use the BNB token as a means of payment at physical stores.
The BNB token also plays a key role in any type of investment: several platforms allow investors to use BNB to invest in equity packages, various assets, and Exchange Traded Funds (ETFs), funds or SICAVs with low management fees that are traded on the stock exchange like regular stocks. They are characterized by the fact that their sole objective is to faithfully replicate the performance and thus the return of stock, bond or commodity indices.
BNB can also be used as collateral for loans on certain platforms, allowing users to split ordinary fees and pay other Binance users directly through Binance Coin, similarly as it can be exchanged for other cryptocurrencies on the various exchanges, depending on the policies provided.
BNB is then the token that has held up best to the recent market crash, compared to BTC and ETH, which have suffered the most.
At the time of writing, BNB is at +0.62% over the past 24 hours, while BTC is at +0.45% and ETH at +1.45%.