SPONSORED POST*
Cryptocurrencies are unpredictable due to market volatility. However, projects with good features have better chances to ride out any unfavorable market conditions and provide gains in the long run.
Projects like Dogeliens (DOGET), Decentraland (MANA), and Aave (AAVE) offer interesting services to the crypto industry. Thus, investing in them could significantly boost your chances of making long-term gains from cryptocurrency. Here's what they are about.
Upcoming Utility-Packed Meme Token: Dogeliens 
Dogeliens (DOGET) is a developing meme token based on the market-popular dog theme. However, it moves away from the typical Shiba Inu dog to feature an intergalactic species of dog-aliens who wish to take users on a journey through space while offering other tangible benefits.
The platform will feature DeFi services such as staking and trading. In addition, users can access the platform's University of Barkington to learn about DeFi and earning opportunities. Moreso, the ecosystem will feature a Play-to-Earn (P2E) game. 
However, one must hold Dogeliens' DOGET tokens to use the platform's services. Holders will also qualify to mint Dogeliens NFT tokens, which will be used in the platform's P2E game.
DOGET is currently available on pre-sale. When the project launches, the token utilities will apply. Its demand and use are set to boost its price significantly, so buying the token before launch will make more financial sense.
The team also offers presale bonuses, ranging from 10% to 22%, depending on the cryptocurrency you deposit. Other bonuses, including pre-sale stage and referral bonuses, are also available. 
Top Metaverse Token: Decentraland
Decentraland (MANA) is a shared metaverse platform where users can build and play. It allows users to buy virtual real estate and build or design games, avatars, and other applications.
With so many features to explore in the metaverse, users can escape reality by taking advantage of the platform. Users also get to interact with other users and monetize their creations.
The platform uses MANA tokens, which are needed for transactions and governance on the platform. 
The coin's value dropped following the bear market in 2022. However, experts predict that the token still has room for growth as the metaverse increase in popularity.
Top DeFi Platform Token: Aave
Aave (AAVE) is a decentralized finance (DeFi) protocol that allows users to take out crypto-backed loans and deposit cryptocurrencies to earn interest. The platform provides pools where digital asset holders can pool their resources for borrowers to access and pay interest.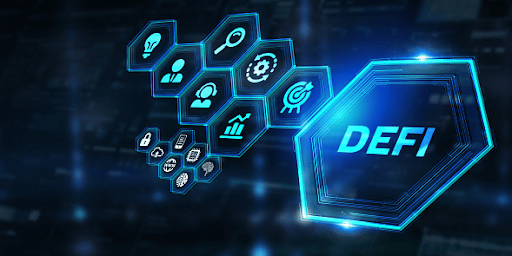 The platform was initially built on the Ethereum blockchain but has become multichain to allow more users to access its services. However, it uses AAVE, an ERC-20 token utilized for transactions and governance. 
Users can stake the AAVE token to contribute to the protocol's security. They also receive incentives in the process. Furthermore, borrowers who deposit the native token, AAVE, as collateral for their loans pay lower rates than those who lock in other cryptocurrencies.
This service is very useful to crypto holders who need quick cash but do not want to liquidate their cryptocurrencies. Also, those holding cryptocurrencies long-term can earn incentives by providing liquidity to the pools. The incentives offer a better option than idly locking cryptocurrencies away.
Although crypto activities seem to have slowed down due to the market crash in 2022, AAVE is likely to pick up when activities return fully to the protocol.
Final Thoughts 
We have discussed three solid crypto projects with good chances of offering long-term gains. However, while you can easily buy MANA and AAVE from crypto exchanges, you can only buy Dogeliens through its presale page.
Check out these links to buy into the futurist meme project with added utilities.
Presale: https://buy.dogeliens.io/ 
Website: https://dogeliens.io/ 
Telegram: https://t.me/DogeliensOfficial 
*This article has been paid. The Cryptonomist didn't write the article nor has tested the platform.