Latest crypto updates regarding Binance Coin (BNB), the cryptocurrency that powers the BNB Chain ecosystem. According to an analysis of its latest performance, can it be said that BNB is immune to the crisis triggered by Silvergate?
Recall that as one of the most popular utility tokens in the world, not only can you trade in BNB as you would with any other crypto, but you can also use BNB for a wide range of applications and benefits.
Predictions regarding the price of crypto Binance Coin (BNB)
According to TradingView, BNB was trading at about $279.3 at press time, with a market capitalization of $43.1 billion. On the weekly front, in fact, it was down more than 5 percent in the rankings.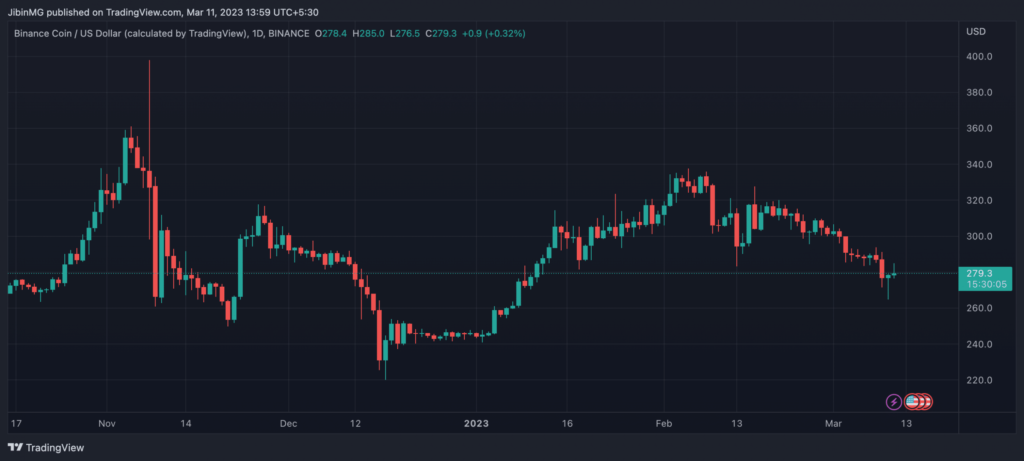 And as the numbers slowly increase, investors and experts have become bullish on the token. Digital Capital Management CEO Ben Ritchie is positive on BNB and predicts that by the end of the year the cryptocurrency will be worth $300.
Ritchie also admitted that the viability of the Binance exchange will determine the fate of BNB. In fact, going on to say that the business has the potential to be deflationary, he added:
"The price of BNB also follows supply and demand. BNB introduced a burn mechanism in each transaction fee and conducted quarterly burns, making it a deflationary asset. As the ecosystem of the BNB chain continues to grow, the price could reach $3,000 in 2030."
Currently, the price of Binance Coin is below the 200-day simple moving average (SMA). Since January 20, 2022, the 200-day SMA indicates selling for the previous 212 days.
Since July 16, 2022, when the price of Binance Coin fell below the 50-day SMA, this indicator has indicated a sell signal for the past 55 days.
Binance Coin crypto news: we2net (WE2NET) protocol goes live on BNB Chain
we2net (WE2NET) is a new liquidity protocol and reward generation system that aims to provide a more equitable, inclusive, and balanced liquidity ecosystem. The protocol has a rigorous third-party security audit and a detailed roadmap for 2023-2024.
According to the official announcement of the we2net team, its mainnet version is only a little closer to its official public release. The first generation of its liquidity providers should be entered until April 15, 2023.
This protocol focuses on providing equal opportunities for early enthusiasts, founding teams and other investors by locking a portion of the liquidity into the smart contract for a predetermined period.
The injected liquidity will be stored in the PancakeSwap (CAKE) pool to prevent the network from being dominated by whales. It will also eliminate the opportunity for early contributors to sell their large-scale allocation in the first months of we2net's operation.
The utility and LP reward token for the protocol, called WE2NET, will be distributed to all investors. 1 WE2NET is currently sold for 0.1 USDT. The first LP reward distribution will occur after the LP expires in April 2023.
To accelerate adoption of we2net and increase visibility, the team has launched a generous referral program. Direct referrals can earn up to 50 percent of the reward for their followers.
The referral program has six levels: direct referrers get 50%, indirect referrers get 25%, third-level referrers get 12.5%, and so on. To ensure that its design is secure for all users and liquidity providers, the we2net protocol has been verified by CertiK, one of Web3's leading cybersecurity teams.
Binance Coin (BNB): a bit of history
Initially, Binance Coin was an ERC-20 token developed on the Ethereum blockchain. It was designed as a reward mechanism for those who helped bring Binance to the public and also empowered users to reduce trading fees.
However, in 2019, Binance launched its own blockchain, known as the Binance Chain. This new blockchain is smart contract enabled and powered by BNB, its native token.
Owning BNB on Binance Chain grants users access to exclusive token sales and reduced trading costs. It can also be used as a community token for dApps on the Binance Chain.
The launch of the Binance Chain also marked a significant change for Binance Coin, as all BNB holders had to participate in a token exchange to exchange their BNB ERC-20 tokens for new Binance Chain BNB tokens.
Over the past year, the price of BNB has experienced some significant fluctuations. In late 2020, BNB experienced a significant upward run, reaching an all-time high of nearly $40 in December of that year.
In 2021, Binance and its blockchain network gained popularity, driving up the value of BNB. Since then, Binance Chain has become BNB's native blockchain, and Binance.US has adopted BNB as its official cryptocurrency.
One of the reasons behind BNB's relatively strong performance over the years has been its solid fundamentals. BNB is also supported by a number of high-profile partnerships and collaborations, which enhance its credibility and attractiveness.