Crypto-trading: Many operators have taken advantage of the climb of recent weeks to bring home some profits, without creating any particular concern.
Not even the partial denial by a Coinbase spokesperson of the SEC's approval has cooled down the spirits.
The day is running in negative territory for all the main cryptocurrencies, with decreases ranging from -1% of Monero (XMR) and -4% of Iota (MIOTA) and Ripple (XRP).
Among the top twenty with the largest capitalisation, only three have been able to consolidate the recent increases: Dash (DASH) which has risen by +2% together with Cardano (ADA), and Stellar Lumens (XLM) to +1.5% from yesterday morning levels.
The latter, in less than a week, compared to the annual lows recorded last Friday just above 17 cents of a dollar, has soared rising by more than 80%, bringing back more than 30 cents.
This level was not seen since last May, before sinking by more than 80% from the absolute highs recorded in early January.
The breeze of news is bringing back the attention of operators towards this coin that yesterday recorded the second daily volume record since the beginning of the year with over 52 million pieces traded. After the Coinbase news, the certification of the Islamic Shariah and the partnership with IBM to launch a new stable coin pegged to the US dollar based on the blockchain of Stellar.
The total capitalization, after having hooked up the 300 billion dollars, goes down a few points continuing to highlight the bitcoin dominance, well settled above 43% of the market share.  Ethereum suffers, falling below 17%.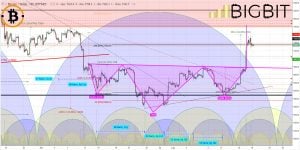 Bitcoin (BTC)
After trying to reach $7600 and increasing the extension over 15% in less than 48 hours, between last night and this morning prices returned to test the short support in the $7300 area. The fast climb of the last few days has left a technical gap behind, indicating, at the moment, a first valid support in the 6800 area.  This level is well known for having been repeatedly mentioned earlier as the area where the bullish Head & Shoulders would have played its fate. In the coming hours, a consolidation is necessary to form a support area useful to begin identifying the intensity of this rise that will have to prove not to be another flash in the pan.
Ethereum (ETH)
Prices are struggling to confirm above 500 dollars indicating the difficult time for the second most famous coin.  The exit of prices from the bearish channel started in mid-May, at the moment is not finding the first useful confirmation above the technical and psychological resistance indicated. The medium-term trend (weekly) will continue to remain positive with prices above the $ 450 area. A return below this threshold would begin to be worrying at a particularly happy time for new direct competitors.