A few days ago, on September 29th, Kiev saw the unveiling of the first virtual monument ever dedicated to the Bitcoin creator, revealing somehow the Satoshi identity.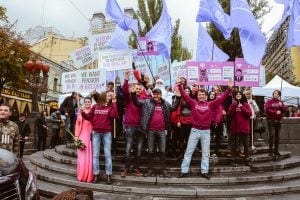 The virtual statue was installed on the site where the monument of Lenin was placed in the past,  at the crossroads of Taras Shevchenko Boulevard and Kreschatik street.
The ceremony was inaugurated by the Founder of the Satoshi Nakamoto Republic, Alexander Soroka, that shared her ideas about the historical background of this first statue, as Ukraine has become the first country honoured the Satoshi identity.
The Mayor of Kiev Andrey Moroz was there, coordinating the process of the augmented reality (AR) statue, a symbol of a new era of virtualization of modern cities.  
To place the Satoshi's AR statue, the Satoshi Nakamoto Republic used their own app that is available both for Android and iOS. These objects can be scanned and can be "revived" thanks to a 360 panoramic view'.
The idea of creating new monuments in augmented reality emerged thanks to a partnership between the Satoshi Nakamoto Republic and Younk, the first music label community on the blockchain.
What's more, the second virtual monument dedicated to Satoshi will be installed in Los Angeles, on the Hollywood Walk of Fame, on November 3rd.