One of the goals of those who launch an ICO is to earn a lot, to "go to the Moon" (the famous phrase When Moon refers to the rise of crypto prices) and maybe buy a Lamborghini, at least from a utopian point of view and as an urban legend, especially in the case of scam ICOs.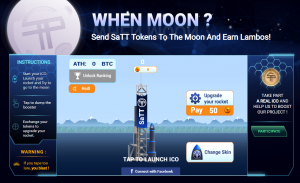 A video game now allows simulating this world: When Moon, an app that is based on the Satt Tokens.
The aim of the game is to send the "Cryptonauts" to the Moon with a missile powered by bitcoin and win lambos that produce altcoins.
With the altcoins, you can upgrade your rocket and become a "whale" (whales are the big investors who can manipulate the market).
The so-called Cryptonauts are brave guys who believe in the future of blockchain and crypto, and who are ready to try an adventure on the Moon thanks to altcoins; they dream of Lamborghinis and fear the Bears, who are those who bet on crypto prices dropping.
In the beginning, in order to play, you have to engage the rocket reactors with bitcoin and prepare to use the booster at the right time: if you use it too late you are declared a scam and you lose.
The goal is to reach the highest possible altitude and increase your ATH overtaking the other participants.
The All-Time High (ATH) is the highest score that the player can achieve during all attempts, it is calculated in bitcoin and used as a score for the overall ranking.
The lambos instead are the most valuable score, because whoever manages to get them becomes a whale. Thanks to lambos it is also possible to earn SaTT tokens every hour.