Today the first 10 cryptocurrencies are all in green, with average increases of 2%.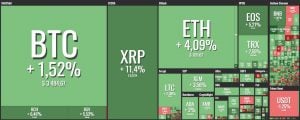 Among the best performing, there's the price of Ripple (XRP), which marks a rise of 10% and returns in just 12 hours close to the 32 cents of a dollar.
The price of 33 cents remains an important watershed and resistance level for Ripple.
The reasons for the rise in the price of Ripple seem to be attributable to the latest news from the Fintech Forum in Paris. During the heated debate between the CEOs of Ripple and SWIFT, the CEO of Ripple compared the "battle" – to grab the market share of the management of cross-border transactions – between the two payment services to that of David against Goliath, saying that blockchain technology will prevail, followed by Ripple.
The performance of the price of XRP is followed by the rest of the industry. And in fact, we find that even bitcoin (BTC) rises to 3500 dollars while Ethereum (ETH) tries to rise above 110 dollars.
After 4 days of suffering, today we see the prevalence of green signs once again: among the first 100 cryptocurrencies in terms of capitalisation, 75% are green.
After having touched the minimums of 2019, the bulls return to be seen, so much so that in less than 24 hours the market cap – after having sunk yesterday close to the 110 billion dollars – today recovers more than 5 billion dollars.
Among the best-known cryptocurrencies, in addition to the price of Ripple, we also find Vechain, with a rise of 3%, and Bitcoin Gold (BTG) with a rise of more than 7%. Among the best performances of the day there's also Zcash, which rose by 2%, and NEM.
Worthy of note is also the fact that the dominance of bitcoin (BTC) falls close to 53%, while XRP rises above 11%, to the detriment of Ether (ETH).
Bitcoin (BTC)
Bitcoin is above 3500 dollars, although there are still no volumes to confirm the movement. Technically, prices are testing the dynamic bearish trendline that started in mid-November and currently identifies a bearish trend.
The violation over $3600 will be a first weak positive signal that could restore operators' confidence.
The lows of last night which almost reached 3400 dollars, the lowest price in 2019, should be carefully monitored.
The technical situation remains uncertain. The recovery of the 110 dollars is a signal that few were expecting while waiting for a test of the 100 dollars, however, it instead stopped at 103 dollars.
It would be important to recover the threshold of 120 dollars and then proceed over 130, which would be a first bullish signal.