The Japanese company Kyocera Corporation and the American LO3 Energy Inc. have unveiled a test project to create a virtual energy plant managed by a blockchain, based on green photovoltaic technology.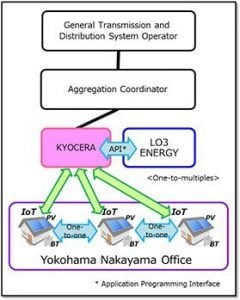 A VPP, Virtual Power Plant, like the one developed for this project, is an energy generation plant that integrates different sources, even heterogeneous, so as to be able to supply energy continuously.
In this case, several photovoltaic sources will be integrated and managed in a decentralized way and, during the test phase, will be simulated through different solar modules located at the Kyocera offices in Japan which will simulate different sources.
The energy will be monitored through the blockchain implemented by LO3 which will record and distribute the energy flows.
The implementation of this type of technology is based on the use of the IoT, with smart components that communicate with the blockchain providing production and consumption data, allowing the accurate management of the system according to the different situations simulated.
Lawrence Orsini of LO3 said:
"The need to reduce carbon emissions is exerting a profound impact on energy providers worldwide. Using distributed ledger technologies, our networks enable the micro energy transactions needed to meet this challenge. We believe the synergies between Kyocera and LO3 Energy will produce a new generation of virtual power plants that can accelerate Japan's transition to a low-carbon society".
Kyocera has been producing advanced photovoltaic panels since the 1970s and the goal is to create a widespread network at the domestic level for the production of energy from renewable photovoltaic sources, through the spread of photovoltaic roofs managed by blockchain.