The Lucerne University of Applied Sciences analysed the Swiss fintech market in 2018, showing that the local sector has grown in comparison to previous years and continues to gain importance.
The "IFZ FinTech Study 2019" shows that the Swiss fintech sector enjoys positive overall conditions and actually grew strongly in 2018.
At the end of the year, there were 356 fintech companies in Switzerland, with a growth rate of 62% over the previous year. The sector has become more mature, as demonstrated by the growing number of employees and the increase in the capitalisation of companies.
This significant growth was driven mainly by accounting firms which more than tripled. The annual growth rates of the other 5 product areas range from 17% of the banking infrastructure to 38% of the payments sector.
Of these 356 companies, 122 use the blockchain or some other DLT.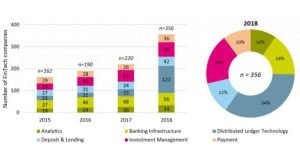 Also in terms of risk capital investments, Swiss fintech has set new records in 2018, with 68 financing rounds for a total of CHF 324 million raised.
In addition to these rounds of venture capital investment, a number of Swiss fintech companies also launched ICOs in 2018, raising a total of $386 million from 15 ICOs, less than the previous year.
The most important ICO was that of Envion, with about 100 million dollars raised, followed by Nexo with 52.5 and SwissBorg with 50.
But, while on the one hand, the Swiss fintech sector is developing, on the other, the traditional financial sector is marking the pace, with a decreasing number of institutions and employees.
Many fintech companies, particularly those related to DLTs, are mainly oriented towards international markets, while companies more oriented towards pure finance, such as those dealing with deposits and loans, are focusing more on the domestic market.
Analysis of the Swiss fintech market also suggests that traditional banks need to adapt to these changes, otherwise they "risk becoming irrelevant".
Banks are not expected to be driven out of the market by fintech companies, but new technologies could replace them in the provision of part of their services unless they prepare in time.