Today, Weiss Ratings published its cryptocurrency chart honouring EOS, XRP and BTC.
The Weiss Ratings ranking assesses crypto on the basis of four different parameters: adoption, technology, investment risk and economic return on investment.
On the basis of these evaluation criteria, Weiss Ratings ranked 122 virtual currencies, assigning each one a grade ranging from excellent (A), good (B) and then down to F for scams or failed projects. Weiss Ratings thus created a general ranking, based on all four of these elements, and then a partial ranking, which instead focused on the elements of adoption and technological quality of the projects. The results were the following: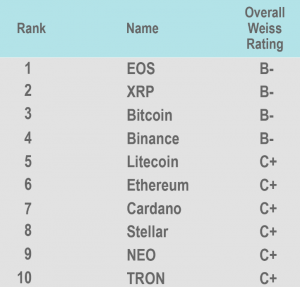 No cryptocurrency has obtained an overall grade A, and the best ones were EOS, XRP and BTC, followed by ETH. As far as the adoption/technology classification is concerned, we have the following results: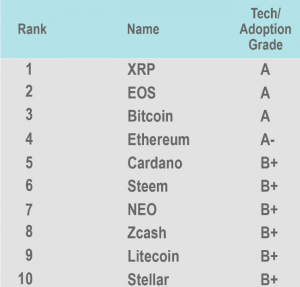 In this case, Cardano and Steem gain positions and approach the leading ones. In general, the ranking has seen:
4 currencies that have managed to have a general rating in the B range;
27 managed to get back in the C-zone, which corresponds to fair;
75 have entered the D range;
16 were classified as E, which means that they were completely inadequate.
In reality, Weiss Ratings has some confidence in the market because the main projects have three times the on-chain users they had at the beginning of 2018. In addition, network capabilities have increased dramatically and the core technology has evolved to a much higher level of efficiency. There are therefore positive premises even though, as things stand, no project deserves an overall A vote.
Weiss Ratings is a company that has been involved in financial analysis and rating since 1971, thus presenting over forty years of experience.
Since January 2018, the company has been studying the virtual assets sector by launching the specific section Weiss Cryptocurrency Ratings, which beyond the overall periodic rankings provides customers with weekly rankings and targeted advice.