Tomorrow will be a major event for XRP as the Huobi Global crypto exchange will launch its XRP futures contracts.
The release will take place on their Huobi Derivative Market (Huobi DM) platform, launched last November, which allows cryptocurrencies to be sold at a certain price at a specific time in the future, giving investors and traders the ability to open both short and long positions.
From the launch of the platform futures contracts have already been available for bitcoin (BTC), ethereum (ETH), EOS and litecoin (LTC), so the platform is quite well established in terms of the management of several cryptocurrencies to which XRP will be added tomorrow.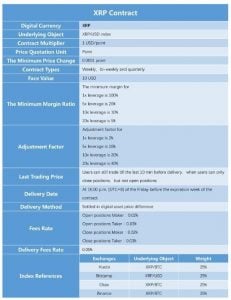 In the post announcing the launch of XRP futures contracts, Huobi also promises to support other altcoins in the near future.
Huobi Derivative Market (Huobi DM) will also have a special subscription for VIP customers, the Huobi DM VIP Clients Preferential Plan, with which these types of customers will enjoy some benefits and greater customisation of contracts. If you are already a Diamond or Gold VIP on Huobi Global, you will also become one on the derivatives markets platform.
Huobi DM VIP customers will thus be able to enjoy:
Preferential fee ratio

Higher API rate limit

Larger position limit
Huobi had recently left Australia because they had found a too competitive market there. In July 2018, in fact, the exchange had opened an Australian office to allow the exchange of crypto-assets with the Australian dollar (AUD). At that time it was estimated that Australia had 312 thousand crypto users.