Cakewallet is the Monero (XMR) mobile wallet designed specifically for iOS.
Cakewallet is available from the App Store and is free of charge. The source code for this project is present on Github.
New version of Cake Wallet for #monero #xmr $xmr is live now! Major changes are: implementation of Accounts, better Subaddresses management, added a third exchange @ChangeNOW_io, and a fresh new look! Download now at https://t.co/a0nMGyGTUG

— Cake Wallet (@CakewalletXMR) May 14, 2019
Initially, the project was not open source and certainly raised some doubts. The community values transparency and visibility of the source code, which is a must in this sector. Especially as far as the wallets are concerned.
Download, installation and initial configuration of Cakewallet 
Download and install Cakewallet on the iPhone.
The app is fully optimised for the latest iPhone models and also supports FaceID. The next screen will allow the choice of a 4-digit numeric PIN, which will be requested again as confirmation.
There are two possibilities: create a new wallet or import an existing one. In this case, we chose to initialise one from scratch.
As usual, it is necessary to save the seed in a safe place. This is an essential process, certainly the most important of all. In case of loss, it will be used to recover funds within the Cakewallet.
Here is the main screen, the so-called Dashboard.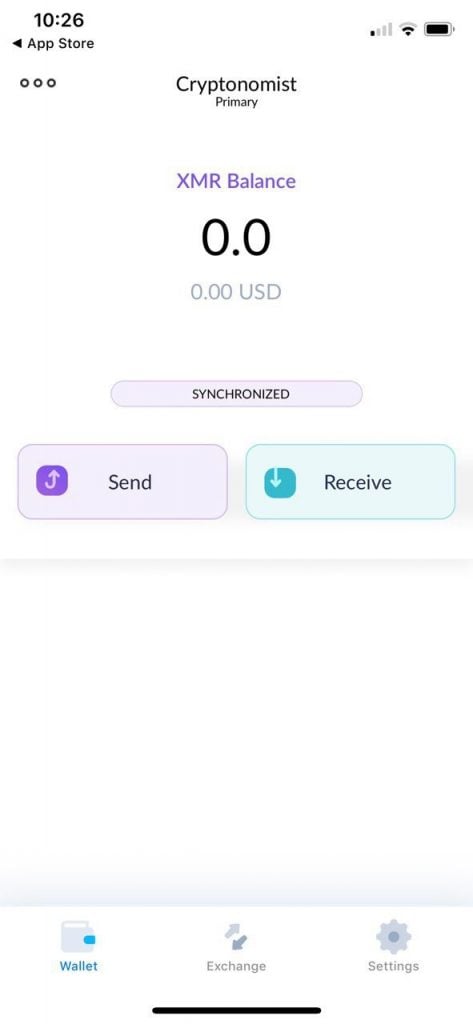 Very simple and minimal, certainly nicer than its previous version. The current balance is shown in Monero (XMR) and US dollars.
Transactions are displayed at the bottom (in this case, since it is a new wallet, they are not present), while the two buttons Send and Receive are the classic unmissable actions within a wallet.
The first of these, Send, leads to a screen where the recipient's Monero address can be entered by copying or scanning it using a QR code. The calculation of the fees on the Cakewallet will be done directly from the wallet and the priority can be changed in the settings.
By clicking on the Receive button in the Cakewallet dashboard, the address will be shown along with the QR code.
The exchange functionality is a novelty. It allows swapping between Monero (XMR) and Bitcoin (BTC), up to a maximum of 20 BTC.
The last section of the Cakewallet is dedicated to settings. Among the various customisations, there is the possibility to change the currency (the default is the US dollar), to choose the priority of transactions, change pin, language and set the fingerprint or Face ID. There are also some settings related to backing up to iCloud.
Cakewallet guarantees the ability to manage multiple wallets at the same time. Just choose them from the list and enter the required password, after which everything will be synchronised in seconds.