The growth of bitcoin in recent weeks has once again stimulated miners, who since January 2019 have started to intensify their bitcoin mining operations in preparation for halving in May 2020.
The arrival of new more efficient and performing bitcoin ASICs, combined with a price that has been growing for three months now, has put into play the possibility of making substantial profits from bitcoin mining, especially for those who have practically no electricity costs.
It is no coincidence that in recent weeks the hashrate record has been reached on the bitcoin network, peaking at 66 ExaHash/s, well above the previous high of 2018.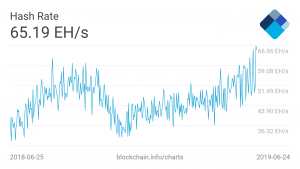 Of course, the difficulty has also been growing steadily since December 2018, reaching an all-time high at the end of May 2019. The next mining period will start at the end of June and, most likely, will see the difficulty of BTC rise further, surpassing again the previous record.
The mining race starts again, ASIC demand tripled
The recent bull run has catalysed the re-engagement of miners towards bitcoin, to the extent that, according to some ASIC online retailers, demand has literally tripled.
Steven Mosher, global sales and marketing manager at Canaan Creative, producer of the popular Avalonminer ASIC series, explained:
"The surge in bitcoin resulted in increased demand and supplies were already short".
Inventories are currently in a sharp decline and demand continues to rise, Steven revealed.
It should be noted that, among other things, the production capacity and performance of Canaan products are not comparable to the giant Bitmain, which apparently is experiencing the same problem. In fact, most bitcoin mining products are out-of-stock, with availability scheduled for September/October. For this very reason, Bitmain has decided to put back on the market some revamped versions of old ASICs, such as the Bitmain Antminer S9 SE.
"It looks like a return to the 2017 Q3, Q4 conditions, where demand was three times the supply."
Decreasing ROI times and delivery delays
The rising price of bitcoin has significantly reduced ROI times for the purchase of ASICs. According to a startup that carries out market analysis, the average amortisation period is estimated to have dropped to the current 60-150 days compared to the previous 120-280 days of the last quarter.
According to Zuoxing Yang, co-founder of Whatsminer and former chip designer for Bitmain, this high demand will lead to a saturation of the production lines, with a consequent postponement of deliveries until next October 2019.
Finally, Yang also stated:
"Bitcoin's hash rate increase just can't keep up with the pace of the price jump. Production capacity is the bottleneck".