Anyone who has or wants to have cryptocurrencies will obviously always need a wallet. These wallets have different functions, but the main purpose is mainly to avoid leaving cryptocurrencies on exchanges. This article shows which are the best bitcoin (BTC) and altcoin wallets for iOS.
Obviously, you need to have an iPhone, but some of these wallets are also available for Android. These instruments are not suitable for those who do intraday trading and rightly prefer, at their own risk, to leave their cryptocurrencies on exchanges.
The best crypto wallets on iPhone for bitcoin (BTC) and altcoins
Eidoo
At the first place in the ranking for ease of use, there is definitely Eidoo that is not only a wallet for bitcoin, but also for ethereum and all ERC20 and ERC223 tokens.
By downloading Eidoo – available not only for iOS but also for Android and desktops (Linux, Mac and Windows) – users have access to a non-custodian wallet and a decentralised exchange. An all-in-one solution for spending, storing and trading from mobile devices.
Here are some of the noteworthy features:
seed with 12 words to always keep the funds safe;

DEX (Decentralised Exchange);

integrated ICO Engine, which allows investing in ICO/IEO and STO from the app;

fingerprint;

languages: Italian, English, Russian and Korean;

fast support;

possibility to hide assets;

hundreds of fiat currencies to choose from to see the wallet's countervalue.
Guarda Wallet
Guarda Wallet is another wallet for iOS. It has been developed in 2017 and it is a non custodian platform where you can also store Bitcoin, Ethereum, Litecoin, Ripple, Bitcoin SV, Zcash, and Monero.
The application, which is available for both mobile (iOS and Android) and desktop (Chrome extension and Windows), also includes a decentralized exchange to buy and sell digital currencies.
Recently they also closed a partnership with Simplex to buy cryptocurrencies with credit card.
BRD Bitcoin Wallet
BRD is another wallet for bitcoin (BTC) that allows sending and receiving BTC in a simple and intuitive way.
No registration is required to use it. Users with an iPhone will be able to start using this wallet immediately.
In addition, the BRD wallet supports Segwit addresses, which are great for minimising fees on bitcoin (BTC) transactions.
Edge Bitcoin iOS Wallet
Edge, formerly known as Airbitz, has a very large development community that has been supporting it since 2013.
The iPhone version of Edge is one of the oldest, longest-serving versions on the market.
The main features are:
possibility to transcribe the seed;

PIN code;

restoration of wallets/keys;

importing/displaying private keys;

QR code support;

estimated transaction fees;

manual addition of ERC-20 tokens;

Segwit support available for BTC and LTC.
Copay
Copay is a product of BitPay, a company that operates in the crypto field and has been active in this market for a long time. This wallet is very easy to use and it is in continuous development/maintenance.
There are some features specific to this wallet that are very interesting:
possibility to transcribe the seed;

PIN code;

restoration of wallets/keys;

importing/displaying private keys;

QR code support;

estimated transaction fees;

more than 150 different conversion rates;

support for several languages;

email and push notifications.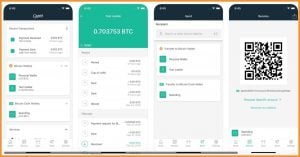 Blockchain iPhone Bitcoin Wallet
The Blockchain wallet is the oldest cryptocurrency wallet currently available on the market. It is an HD wallet and initially, it was only usable on Android, but now it is also available for iOS.
It certainly comes with all the features one would want in a self-hosted wallet. Some of the most important are:
possibility to transcribe the seed;

PIN code;

restoration of wallets/keys;

importing/displaying private keys;

QR code support;

estimated transaction fees;

more than 20 conversion rates;

support for 18 different languages