The sector once again ignores the new rumours reported yesterday by Bloomberg about an investigation, the umpteenth, against the pseudo crypto of Facebook, Libra, and so the majority of cryptocurrencies are testing the supports of August.
It would seem that even the European antitrust is aligned with the American one in prosecuting the digital currency of Zuckerberg & Co., a means of payment that violates the principles of free competition. 
 Scrolling through the list of the top 100 cryptocurrencies with the highest capitalisation, the positive sign prevails for more than 70% of them, a percentage that increases by restricting the analysis to the Top 25, where only a negative sign emerges, that of the Leo token, which retreats a few decimals under the parity (-0.4%). 
Ethereum Classic (ETC) performs best this day, scoring a rise of over 15% from yesterday's levels, bringing prices back close to $7, levels of mid-July. Followed by Basic Attention Token (BAT) and Icon (ICX), both above 14%. 
To date, Ethereum Classic, along with Bitcoin (BTC) and Monero (XMR), are the only ones of the top 20 capitalised to reach July levels. All the others continue to move in the quicksand of the last months' supports. The picture of the general situation is summarised by observing bitcoin's market share which, despite remaining more than 2000 dollars away from the relative highs reached in the first week of the month, with more than 780 billion capitalisation, keeps the dominance intact.
Total capitalisation returns to over $265 billion, with bitcoin firmly at 69%. Ethereum (7.7%) and Ripple (4.3%) defend the lowest levels reached since the beginning of the year.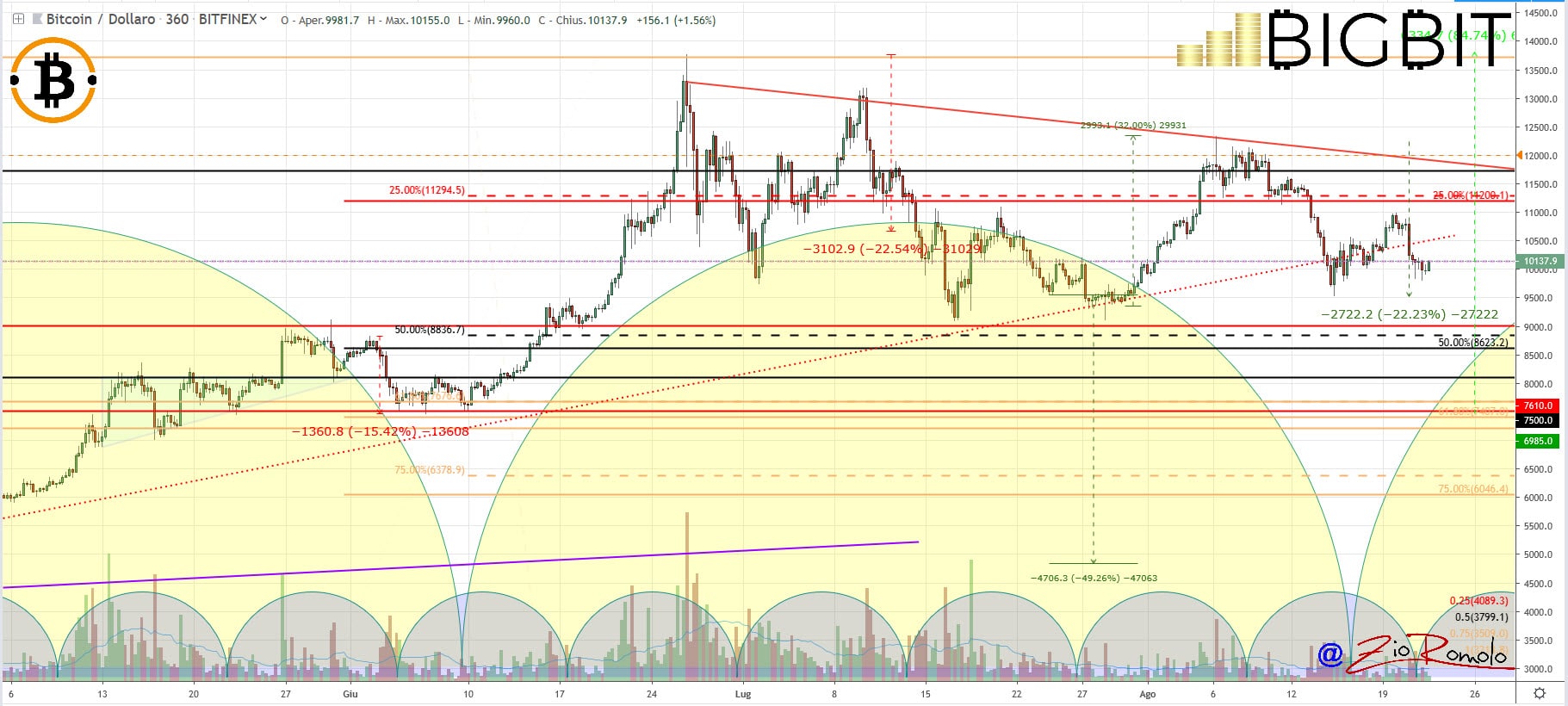 Bitcoin (BTC)
Even today, as it has been occurring daily over the last week, bitcoin prices fluctuate above and below 10000 dollars, a state of apathy that contrasts with the trading volumes – over $1 billion in the last 24 hours, or 58% of total volumes – above the daily average of the last weeks. This is a useful clue to understanding the importance of current levels. 
A break of the supports created in the last week (area 9500-9800) would attract downward speculation and probability of revising the subsequent supports to 9200 first and 8800 afterwards. From today's levels, the resistance (area 11900-12000) remains more than 15% distant, which would scare the bears again.
Ethereum (ETH)
It's a delicate moment for the queen of the altcoins which for seven days has been testing the dynamic trendline that still keeps intact the long-term bullish trend. 
To overcome this phase it is necessary not to go below 175 dollars, whereas in order to regain some bullish hope it is important to review prices above 200 dollars in the coming days.