August 2019 ends with the third consecutive negative weekly closing in the crypto market: it hadn't happened since May 2018 and it is also the second month in the red. This confirms the statistic that the months of July and August are not appreciated by crypto traders.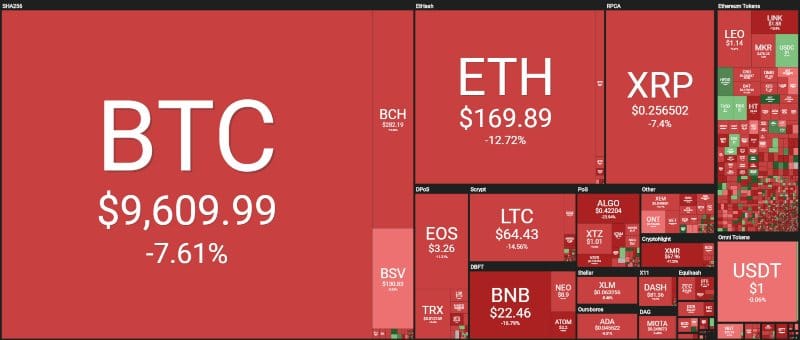 In traditional markets, there is the saying "Sell in May and go away". It seems that for the cryptocurrency industry the saying "Sell in June and go away" may be considered, but with a small note: the statistic sees July and August close the historical average in red to then reach September, which usually opens the rally upwards that lasts until December.
From a technical point of view, August 2019 saw two of the worst daily falls in the summer. The first was on August 15th and the second on August 28th, which saw double-digit declines in 24 hours.
Another downside is that the fear and greed index on bitcoin reached its lowest level ever last week, scoring 5 on a scale from 0 to 100. 
The week closed in red for 98% of the first 100 cryptocurrencies. This is a snapshot of what happened on a monthly basis. Considering what is happening this week, on a monthly basis there are only 5 cryptocurrencies that are able to close the balance of the month above par.
The best crypto increases of August 2019
On a weekly basis, the best of all is Thorenext (THX) which, with an increase of 125%, achieves the best performance. This allows it to also climb the first step of the podium on a monthly basis with a rise that comes close to 150%.
Among the big ones, on a monthly basis, bitcoin struggles to give a positive signal in a negative context: remaining above the parity threshold above $9,600. 
Another positive sign comes from Ethereum Classic (ETC) which, with a rise of 10% on a monthly basis, closes its best month of 2019. 
The worst cryptocurrencies of August 2019
Among the worst cryptocurrencies of the month, we find Cosmos (ATOM) which, after having recorded its historical highs in June, reaching 7 dollars, continues to drop, reaching almost 2 dollars.
Among the worst ones in a monthly perspective, there are also Zcash (ZEC), Basic Attention Token (BAT) and TRON (TRX), with decreases of about 30%.