Over the past week, the dominance of bitcoin (BTC) has been slowly decreasing, allowing altcoins to gradually recover, which in many cases has resulted in several cryptocurrencies achieving double-digit gains in a matter of days.
Looking at the charts provided by TradingView concerning the dominance of bitcoin, it is possible to see that after touching the highest value of 74.8% last September 6th, a slight decline began, which then worsened around September 13th.
The transfer of capital from bitcoin to the main altcoins, including the top gainers XRP, ETH and XLM, has drastically brought the dominance of bitcoin (BTC) below the threshold of 70%, which on Wednesday touched the minimum of the month of September, close to 69%.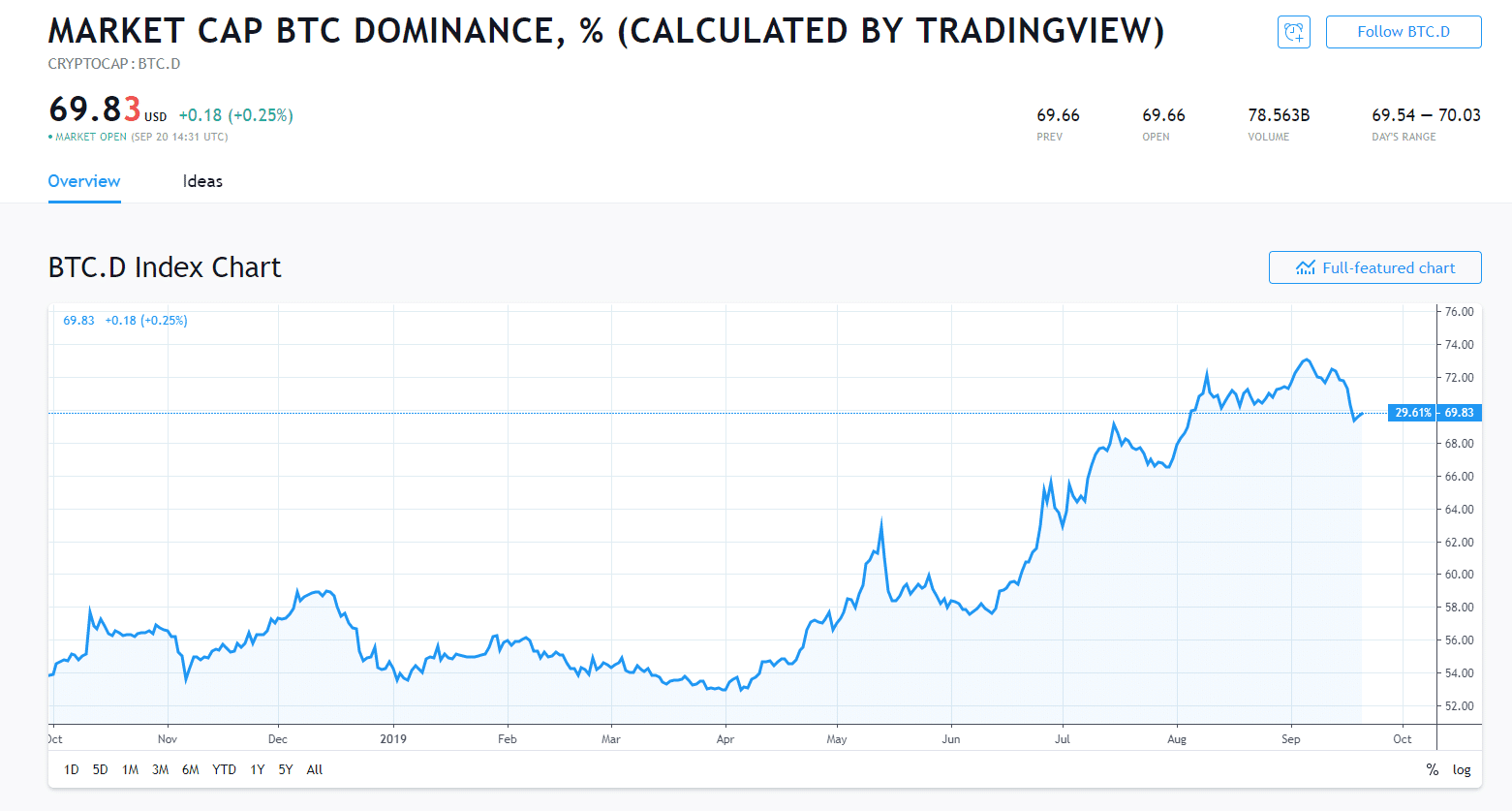 The dominance of bitcoin is slowly rising again: new alt season?
Looking at the last 48 hours, it seems that the trend of dominance is about to reverse again, repeating several times the pattern that occurred between July and August.
In the last two months, in fact, the continuous fluctuations in the price of BTC have slowly led the currency to drain capital from the main altcoins, thus raising the dominance of bitcoin to the highest levels of 2019.
These movements caused heavy losses for the main altcoins, which between the end of July and the beginning of September touched significant low supports on the trading pairs altcoins/BTC.
However, as soon as BTC showed a rather prolonged steady phase, as happened over the last 10 days, capital returned to flow from BTC to the main altcoins, thus allowing traders to significantly increase their positions, also in view of the launch of Bakkt, scheduled for Monday, September 23rd.
It will be interesting to see what will happen over the weekend and even more so in the early days of next week, when Bakkt's debut should bring new capital back into the currency's market cap, raising the volatility of BTC's value again.
If the bitcoin dominance were to follow the trend recorded in the last two months, BTC could again take off at the expense of the altcoins, putting an end to the much-acclaimed mini alt season of the last week. If this does not happen, BTC could suffer an even more substantial decline in dominance, with a continuation – or rather, actual start – of the art season.