Tone Vays and his predictions are always at the forefront when it comes to cryptocurrency trading, specifically bitcoin (BTC) but not only. Over the years, he has hypothesised various scenarios, most of which have never occurred and which, on the contrary, have led his followers to suffer considerable losses and missed profits.
Who is Tone Vays?
Tone Vays is a former Wall Street trader, a figure he held for nearly 10 years starting as a Risk Analyst within Bear Stearns and later becoming Vice President of JP Morgan Chase after the 2008 crisis.
In 2013, he entered the cryptocurrency world throwing himself, in particular, on bitcoin (BTC) and studying both the asset from the financial point of view and the blockchain technology that underlies it.
He created a YouTube channel that now has 88,900 subscribers on which he designed and produced several playlists including CryptoScam, a sort of podcast born on January 24th, 2017 that, according to his statements, talks about all those projects that were expected to turn out to be scams in the future.
Tone Vays is undoubtedly one of the most important figures in the crypto field, constantly active in wanting to propagate blockchain technology and the importance of bitcoin (BTC) within the global financial market, as demonstrated also in the debate between him and Roger Ver of Bitcoin.com at the  last May 24th.
Vays, according to his LinkedIn profile, is currently a blockchain researcher, event organiser, consultant and derivatives trader.
Incorrect predictions by the former Wall Street trader
Tone Vays is, without doubt, a strong bitcoin (BTC) maximalist, and this is why he created a podcast on YouTube that focused on identifying which crypto projects are scams and what is the only one that makes sense to exist: bitcoin (BTC).
All the cryptocurrencies mentioned below by Tone Vays, with the relative videos and graphs, have been criticised by him and discouraged as a form of investment:
"Everything except bitcoin is a pure speculation. Altcoins are even worse than national fiat. They were emitted by companies as attempts to create their own money and get rich with the help of those who cannot contribute positively to the Bitcoin network."
This is how the predictions of Vays went.
Litecoin (LTC)
On January 31st, 2017 litecoin (LTC) was worth $4.05. It is currently trading at $56.09, a figure leading to an increase of 1,284.95%. A $10,000 investment in litecoin (LTC) would have generated a gross profit of $138,493.82.
However, litecoin (LTC) reached an ATH of $375, a much higher value than the current one and which would have guaranteed completely different profits.
Dash (DASH)
The same is true for Dash: the video was posted on February 3rd, 2017, a few days after that of litecoin (LTC), and Tone Vays made another wrong prediction: Dash was worth exactly $16.31 while today the trading price is $70.72, an increase of 333.59%. Investing $10,000 would have guaranteed a gross return of $43,360.
Dash has also reached a worthy ATH: $1,642.22. Selling the $10,000 initially purchased at this level would have resulted in a gain of little more than $1 million.
Augur (REP)
Augur is undoubtedly one of the most important projects on the Ethereum network. When the video in which Tone Vays showed one of his latest predictions was published, the token was worth $4.02.
It reached $116.50 during its ATH recorded on January 11th, 2018 and is currently worth $8.32. In the first case the percentage increase was 2,798 % (investment of $10,000 = gross profit of $289,800) while at present it is 107% (investment of $10,000 = gross profit of $20,696).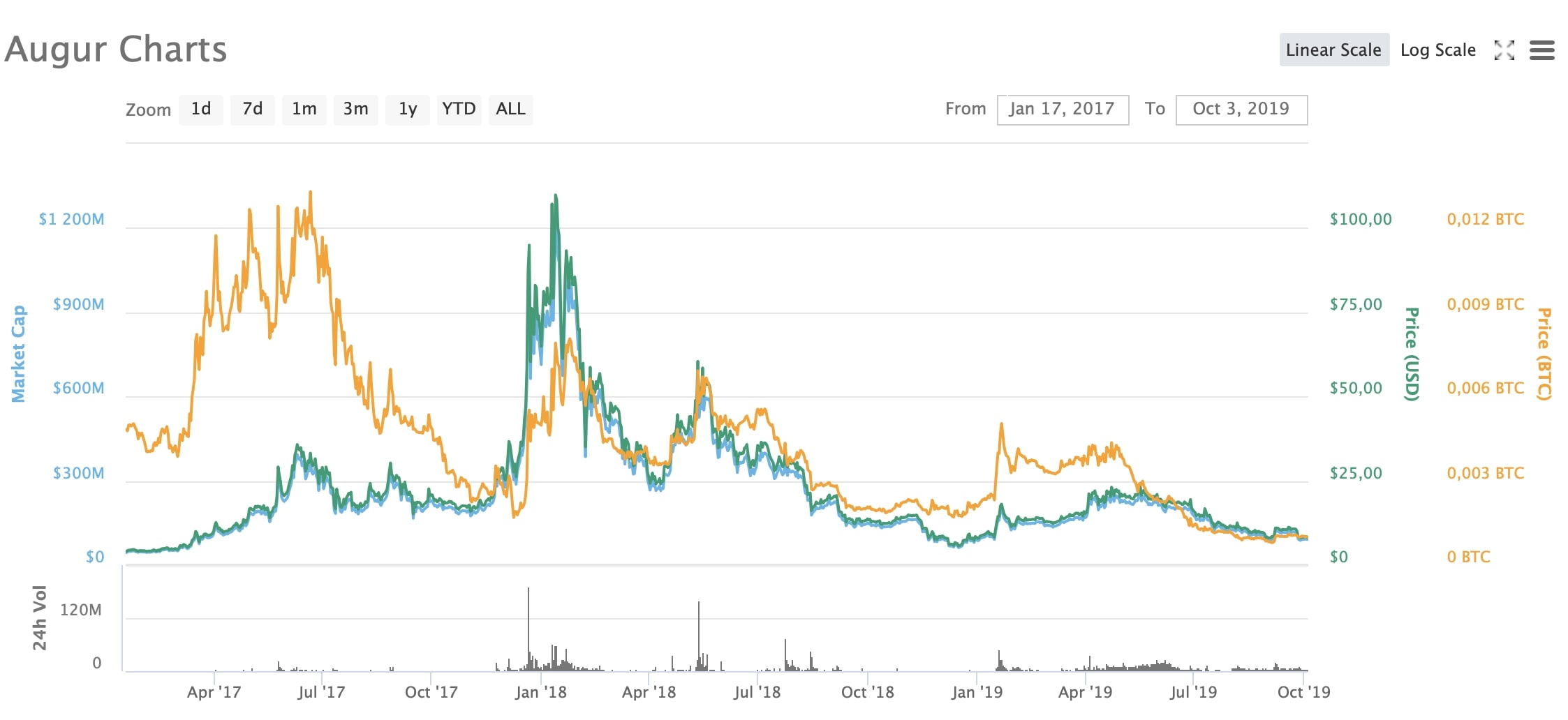 Ripple (XRP)
This is how Tone Vays defined Ripple (XRP):
"Ripple is perhaps the biggest scam of all the coins. It continues to show that when you suspect something is off on a project, investigation usually reveals that it's 100x times worse than you could have imagined."
XRP is the third cryptocurrency by market capitalisation, it has always struggled with ethereum (ETH) for second place behind bitcoin (BTC) and has undoubtedly proved to be one of the most interesting cryptocurrencies in the industry. Defined by many as a security, XRP has always been at the centre of several controversies, however, the performance of this asset cannot be criticised from a financial point of view.
On February 16th, 2017, the day in which Tone Vays published his video about Ripple, XRP was worth $0.006437. Today, however, it corresponds to a value of about $0.25, an increase of 3,783.79 %.
If $10,000 had been bet on XRP at that time, it would have been $388,379.68 today. Not bad for being "the biggest scam of all the coins".
The ATH touched on January 4th, 2018 was $3.83. The same $10,000 would have become almost $6 million.
It clearly doesn't make too much sense to do the math based on the ATH (All-Time High), almost nobody would have sold a cryptocurrency at that precise moment.
However, considering the price of the tokens today, at least those of Litecoin (LTC), Dash (DASH), Augur (REP) and Ripple (XRP), an investment of $10,000 on each of these assets would have guaranteed a total gross profit of $590,929.
This is a different story compared to Tone Vays' advice.
Tone Vays and the bitcoin (BTC) predictions
On June 10th, 2018, Tone Vays published another of his analyses, this time about bitcoin (BTC). According to his tweet, in the first half of July BTC was supposed to be at $4,975. The prediction was completely wrong.
It has been a long time since I've posted a $BTCUSD chart like this. Kind of miss it but it's really time consuming. My most optimistic Bearish #Bitcoin target remains at $4,975 first half of July. I will update my % expectation on future targets once it's hit. pic.twitter.com/UUhbFgzoSe

— Tone Vays (@ToneVays) June 10, 2018
On June 10th, BTC was worth $7,499 and in the first 15 days of July has always maintained a slightly undulatory trend with an average of $6,400: about 30% more than expected.
Not only that, precisely on June 30th, it recorded an increase of about 9%, which is by no means a bearish behaviour. Moreover, towards the end of July 2018, BTC was worth $8,380.
One of the latest predictions by Tone Vays concerns GRAM, the Telegram token, which he believes is just a scam:
"If you're monetizing your company, you're supposed to do it through the equity space. You're supposed to give shares of your company. You're not supposed to invent money."
All that remains is to wait for the outcome of the last bet posted on Twitter by Vays in which he claims that bitcoin (BTC) will reach $2,000 before the halving of 2024. If this does not happen, he will be willing to pay $250,000 or 1 BTC, depending on which of the two is worth more in US dollars.