Which are the countries where it is easy to pay with cryptocurrencies? When it comes to crypto, one of the barriers encountered is that of adoption, especially with regard to payment methods: in fact, although it may be an effective and revolutionary tool, when compared to traditional finance and payment methods, the percentage of use is quite low.
Nonetheless, over the years the number of stores that accept crypto has increased to over 15,000 worldwide.
Where to pay with cryptocurrencies?
Since it is also the first crypto, bitcoin has had greater growth in the last years of activity and its expansion covers all countries, as can be seen from the following image taken from Cryptwerk.com. 
There is little adoption in Central African countries, in the Far East and in the central part of Latin America; by contrast, the hottest areas are those of Central America, Central Europe and southern Australia.
As far as Ethereum (ETH) is concerned, this cryptocurrency shows a similar situation, but less evident than that of bitcoin. Moreover, in Australia, the adoption of ETH decreases considerably.
Litecoin (LTC) is particularly popular in America, but is less active beyond the Indian Ocean.
The situation is also positive for Bitcoin Cash (BCH), which is strong both in America and Europe, but also in Taiwan and the Philippines.
As far as EOS is concerned, the expansion is rather homogeneous, with Australia recording significant numbers.
A disappointing situation for TRON (TRX) which is struggling to enter into the realm of payments.
Dogecoin (DOGE), on the other hand, manages to do better than Tron (TRX) and Ripple (XRP):
So, which cryptocurrencies is it easier to pay with?
Bitcoin is over 80% preferred by stores; Ethereum just under 50% and Litecoin (LTC) just over 40%. 
When talking about adoption by shops and businesses, it's worth taking into account also those services, called gateways, that allow companies to easily accept crypto payments. More than 40% of the activities in this sector rely on CoinPayments, followed by BitPay and Coinbase in third place.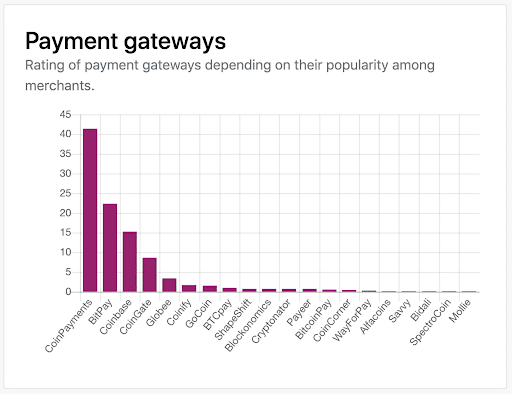 Although there are not enough stores that accept crypto, many are turning to this new payment method, one example is what France has done recently. 
Moreover, these data refer to stores and physical businesses to which it is necessary to add all those online platforms that allow buying and selling using cryptocurrencies: in this last case the numbers are really impressive and certainly greater with respect to physical locations.