Crypto Pro is an app that tries to combine the best features that cryptocurrency holders demand: usability, simplicity and privacy. The app is available for Android devices (at the time of writing this article the app crashes on tested Android phones), iOS and iWatch, macOS and Windows.
There are many apps for keeping track of crypto portfolios and some have interesting features such as the ability to connect to wallets on exchanges, perform trading operations, or connect your bitcoin or ethereum address.
The basic version, which is very reminiscent of the aesthetics of Blockfolio, allows to manually input the cryptocurrencies owned or trades executed, and offers a nice pie chart showing the distribution of the portfolio with the cost and total value. The Stealth Mode option allows hiding the balance from prying eyes.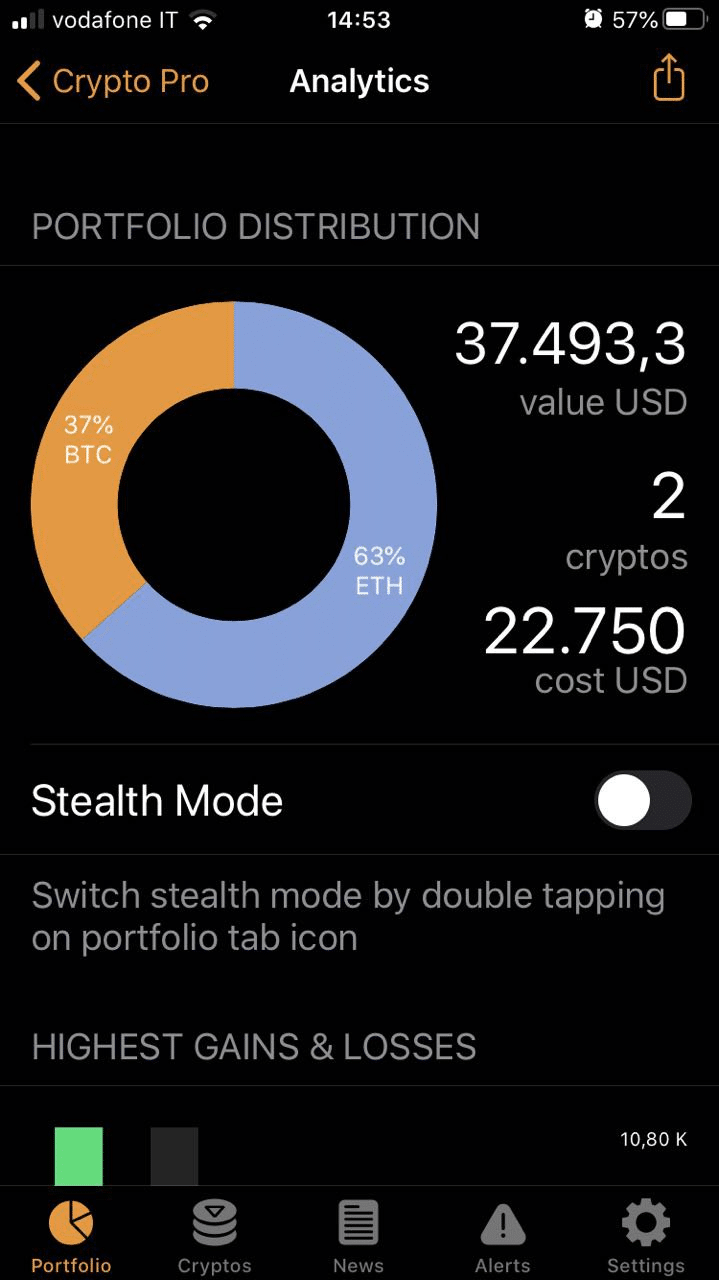 It is possible to set the menu language and base currency, which by default is USD, as well as a variety of customizations such as the theme of the app.
The Premium version, which starts at around 8 euros per month and also allows annual subscriptions, allows keeping track of most exchanges through APIs (we recommend using one in read-only mode), thereby importing the balance on the exchange, which is updated at regular intervals (also customizable).
It is also possible to import wallets of Bitcoin, Ethereum, Ripple or any cryptocurrency through the address, and it will no longer be necessary to manually input the trades made.
After importing the various wallets and exchanges, the app is very convenient as it allows Coin Stats to see the balance of all the wallets but in a more intuitive and visually pleasing way.
The app doesn't work temporarily on Android and is very unstable on the macOS desktop version, but the iOS tested version proved to be interesting and comparable to Blockfolio and Coin Stats in terms of features.