Yesterday, the total trading volume of bitcoin options reached a new all-time high, approaching $200 million for the first time. 
The data is provided by skew.com, which monitors the volumes of these options on different exchanges.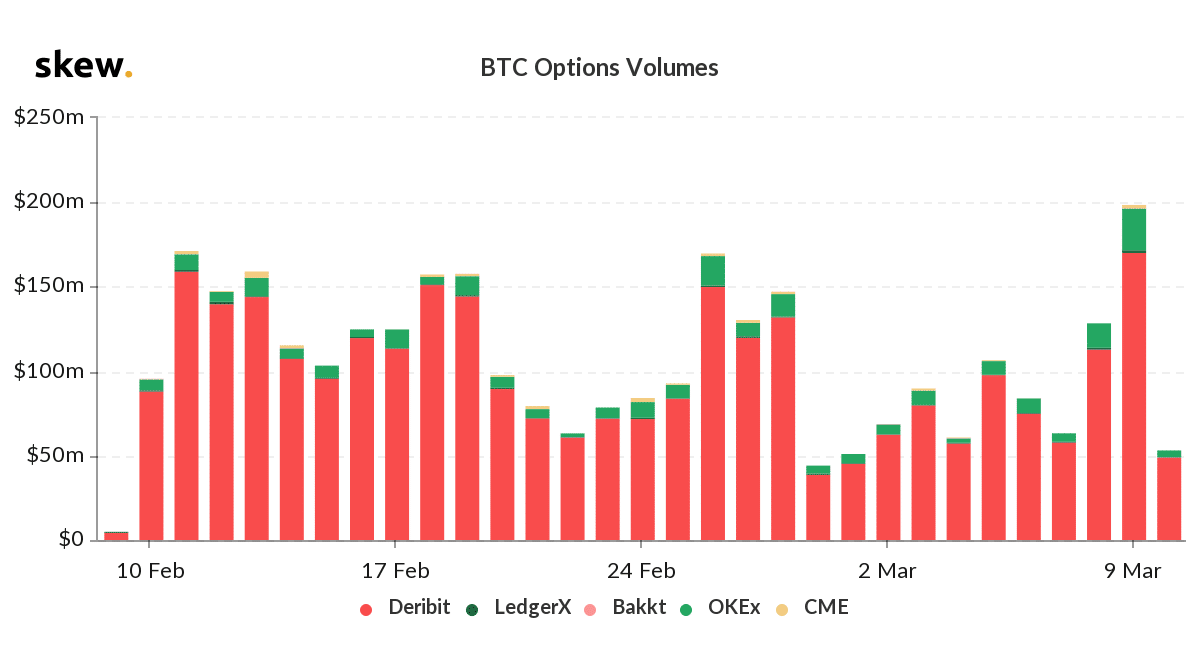 The exchange with the maximum trading volume of bitcoin options yesterday was Deribit, with 170 million dollars, followed by OKEx with 25, CME with 2.1 and LedgerX with 1.6. 
In the past, the 150 million had rarely been exceeded, so the volumes of Deribit alone yesterday were already higher than the previous overall historical highs. 
As a matter of fact, it wasn't only the options that recorded very high volumes yesterday, since also token trading volumes on the exchanges marked the highest peak of the last months. Over 785,000 BTC were traded on the bitcoin blockchain alone, equivalent to over $6.1 billion traded in a single day, the highest value since the end of October 2019. 
It is worth noting that the comparison with the previous days is really sensational, because for example in terms of token trading volumes on exchanges, yesterday's volumes were three times higher than on Friday and Saturday. 
As far as options are concerned, February 29th reached the lowest peak in recent months, with less than $50 million, while Friday and Saturday were no higher than 80. In other words, yesterday's volumes were twice as high as the average for Friday and Saturday. 
The volumes of futures on bitcoin were also very high, although they did not set a record. Yesterday was the third highest peak of the last month, with over $20 billion traded. 
It should be noted that the trading volumes of options on Ether have been much lower and far from the highs, while those of ETH futures have recorded the highest peak of the last month at almost $6 billion. 
As far as options on bitcoin are concerned, today is expected to be a particularly interesting day, since the volumes have already exceeded 50 million dollars and the day on global financial markets has just begun.